Journal
Grafton Loop Trail (GLT)
This was my second time hiking through this park, so this was a bit of a rematch for me.
At the end of this blog post you can find resources listing campsites, map, and other videos to check out.
I only ever had 1L of water with me at a time, except when I crossed from the western side to the eastern side, and I took 1.5L, as I knew there wasn't a source until the Steward camp, and I didn't want to half to walk down to it. There are plenty of water sources along the way that I didn't want to carry the extra weight.
I have heard that this was a well maintained trail. I'm afraid that just isn't the case, at least not anymore. There were a lot of sections on the western half that were very overgrown. The raspberry bushes made it even more difficult as they are thorny. The eastern side didn't fair very well either, but I think it was a little better. This was one trip I wish I had brought my convertible pants instead of wearing shorts and having rain pants to change into. My legs would have been much less scratched up.
The first time was brutal. About 10 miles the first day, 11 the second. I was really wiped, and Pauline and Cindy were much worse off then me. Once stopped, there was no way I was going to go anywhere for a few days.
This time though, it was much more enjoyable. While the mountains didn't go easy on me, I think I came out on top this time. My feet and legs were tired, but I felt that I could keep going further if I wanted. The trip down to the road from West Baldpate tired my knees out a fair amount, and I ended up putting on my knee brace, but they were not sore at the bottom; and again, could have kept going comfortably. Even while I write this log the day after getting back home, my legs and feet are only a little stiff and sore.
The weather kept waffling between thunder, rain, and partly cloudy skies all week. Thunder storms I wasn't having anything to do with. But rain; I decided rain could be an interesting challenge, as I have never backpacked in heavy rain. I had already decided I wanted to use my running shorts instead of my convertible pants, as they are lighter, shorter, and cooler. My first concern was keeping warm. Keeping dry would have been a pipe dream. Even if I wore my rain gear, I would get wet from sweating. But if it is cold enough, I might need to have pants to help keep wind and direct rain off my legs. I didn't have any rain pants, but I did have wind breaker pants that I considered bringing. However, after talking to a friend that was a very experienced backpacker, and another friend who offered to loan me her EMS Thunderhead full zip rain pants, I decided to use her pants. We fit almost all of each others gear, which is pretty cool.
The wind breakers were 4oz (113g) lighter then the thunderhead's 12 1/4oz (347g). So that gave me pause, since my bag's base weight had crawled up to 15 lbs, with the extra gear I was taking. However, wet wind breakers will be heavier, and not as effective. So ultimately I ended up taking the thunderheads. Since then I have ordered some Frogg Togg Pro Lite rain gear. Pants and jacket for $15. Frogg Togg pants are only 5oz (141g), which is still 3oz lighter then the wind breakers. So I think they will be part of my usual gear from now on, if I am not using convertible pants.
Food
I usually bring my Ursack and oder proof Opsack, as it is both light, and bear resistant. By resistant I mean a bear would not be able to get at my food. However, since the ursack is a soft sided bag, the bear would likely ruin the food with breaking up the contents and drooling all over it.
But for this trip I decided I wanted to use my Bear Vault BV450. That's the latest 4 day canister, with the 2 clips and lip added for extra bear resistance.
I haven't used it in years, so I wanted to take it out again, just for the fun of it. I also felt like I wanted something to sit on while at camp. It's 1.5lbs heavier then using an ursack, so I figured the extra weight for a chair isn't unreasonable. The one I listed is only 1 lbs, but other REI chairs are heavier then 1.5 lbs. So again, not unreasonable.
Sadly there was only one time I really had the chance to utilize the Bear Vault. The sites along the western half I stayed at all had bear boxes, and tent platforms. So I had a nice place to sit, and a good place to store my food. I only camped 1 night on the eastern half, at Town Corner site. There is where I was glad to have my Bear Vault. There were a lot of squirrels at the site, and no good place to sit. However, if I did it all again, I would only bring my Ursack, or might even forgo that too, and hang my food bag on the eastern half.
The weight of the Bear Vault is 2 lbs (911g), the ursack is 8oz (226g).
All my food weighed 5 lbs 5 oz (3323g). I carried an extra dehydrated meal and Clif bar for emergency rations, which are included in the listed weight. So I started out carrying 7 lbs 5 oz with my Bear Vault loaded up. If I had used my ursack, it would have only been 5 lbs 14 oz. 1.5 lbs heavier with the Bear Vault.
Also of note, all my food fit in the Bear Vault with a little room left over. I wish I would have taken a picture of the Bear Vault loaded up and with the lid off. I also loaded all the food into the ursack to see if it had more room. Yup, it had plenty of room left over. Way more then the Bear Vault, maybe 3 more days of meals and snacks.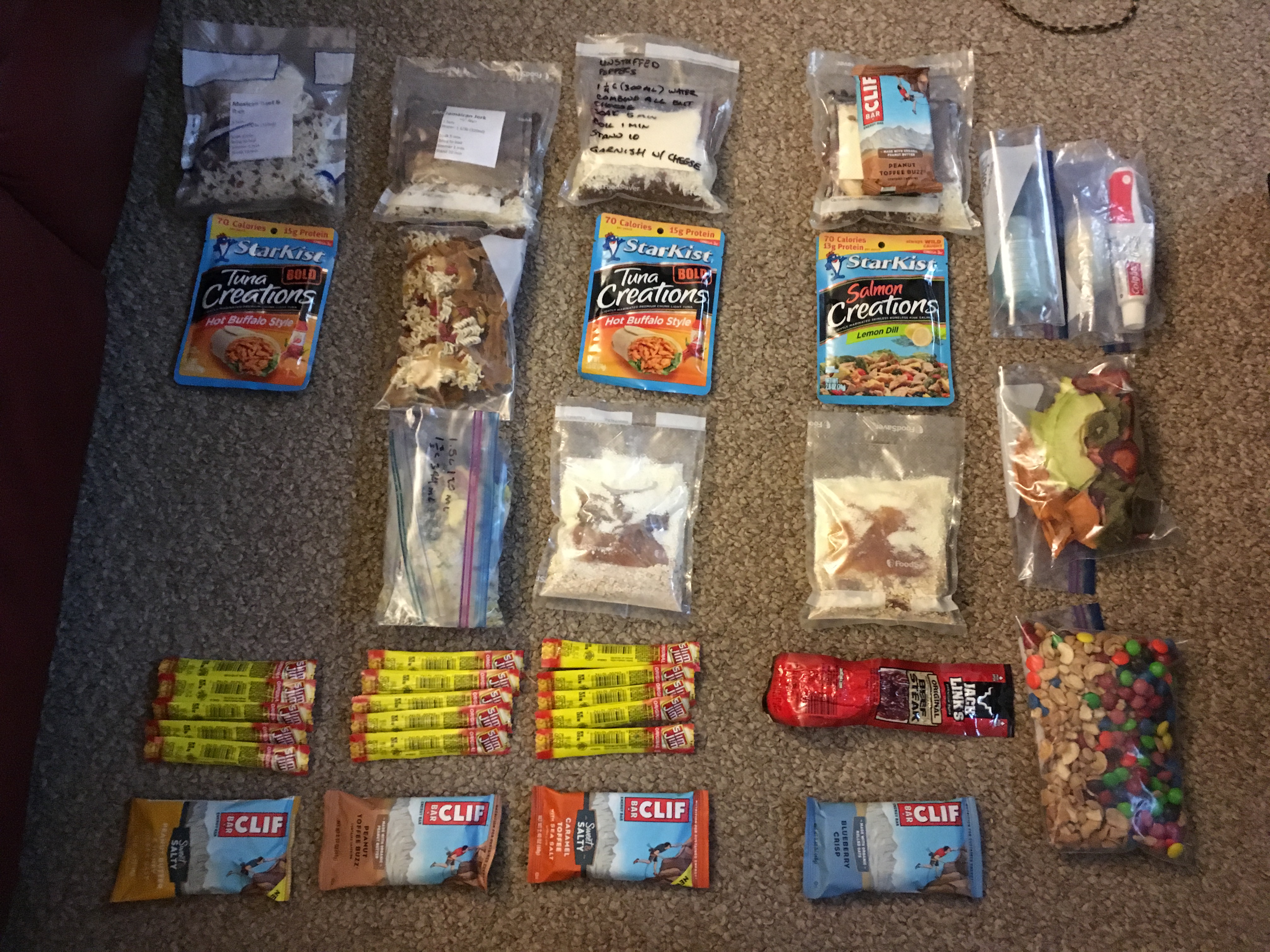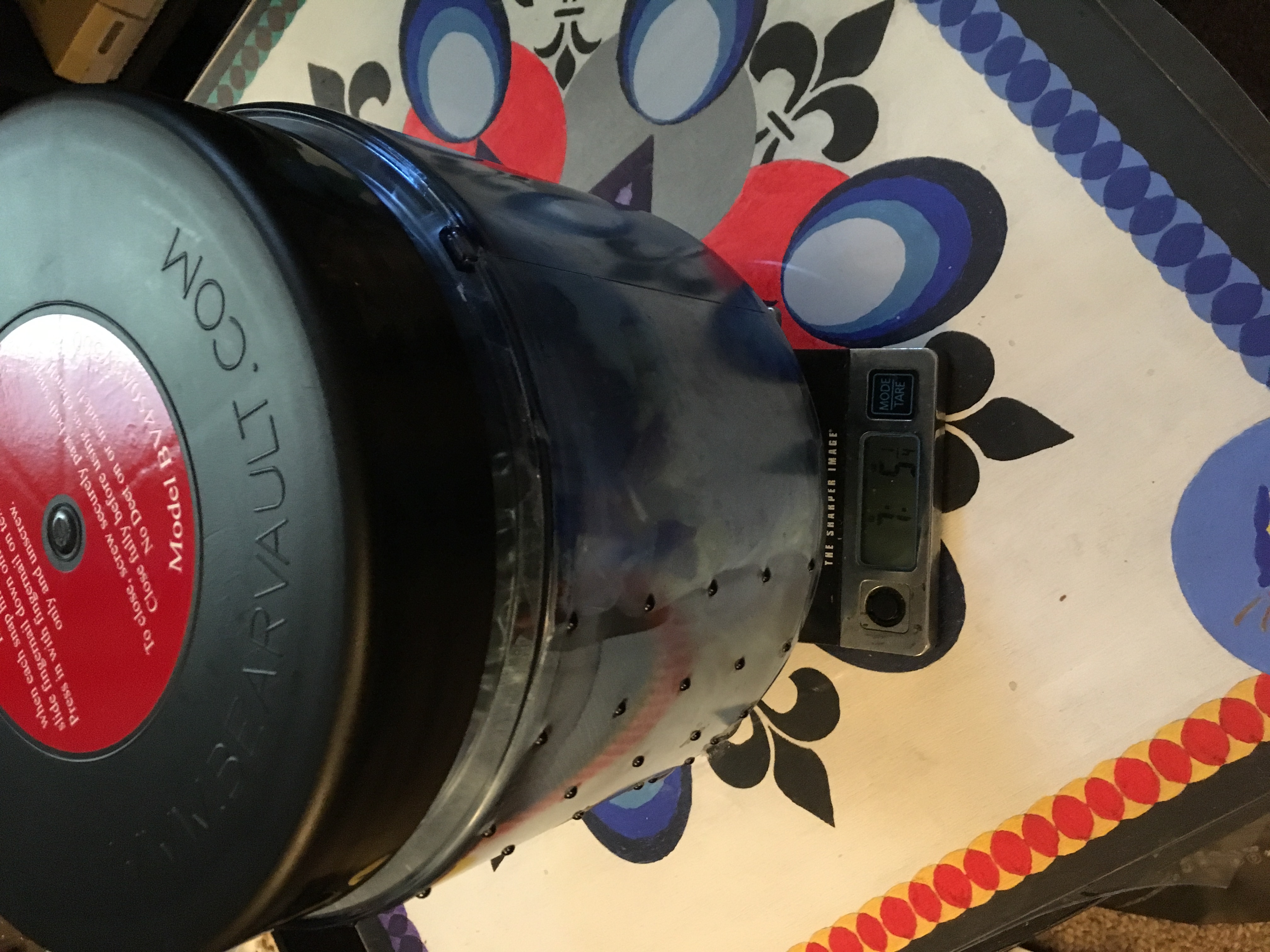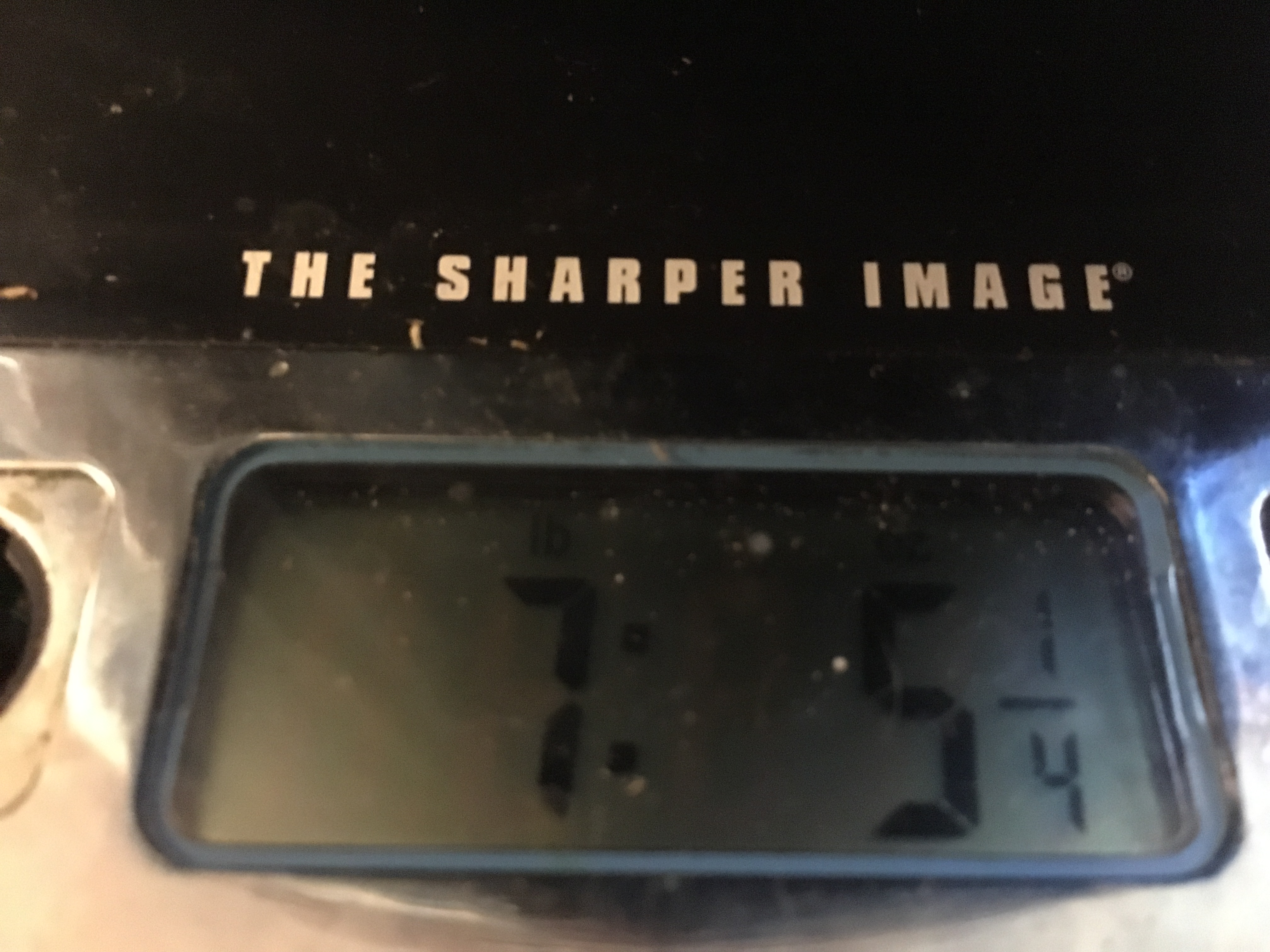 Day 1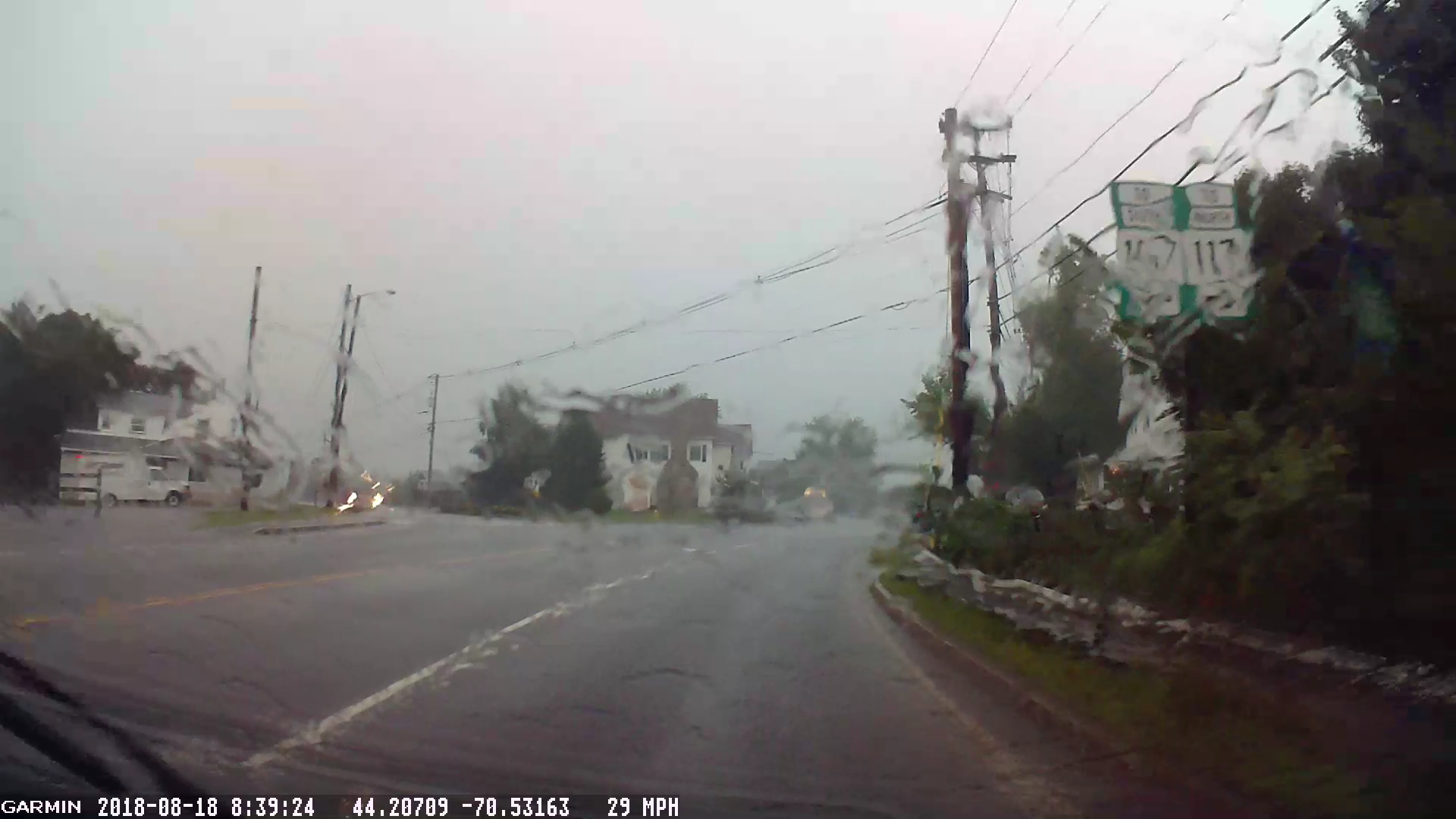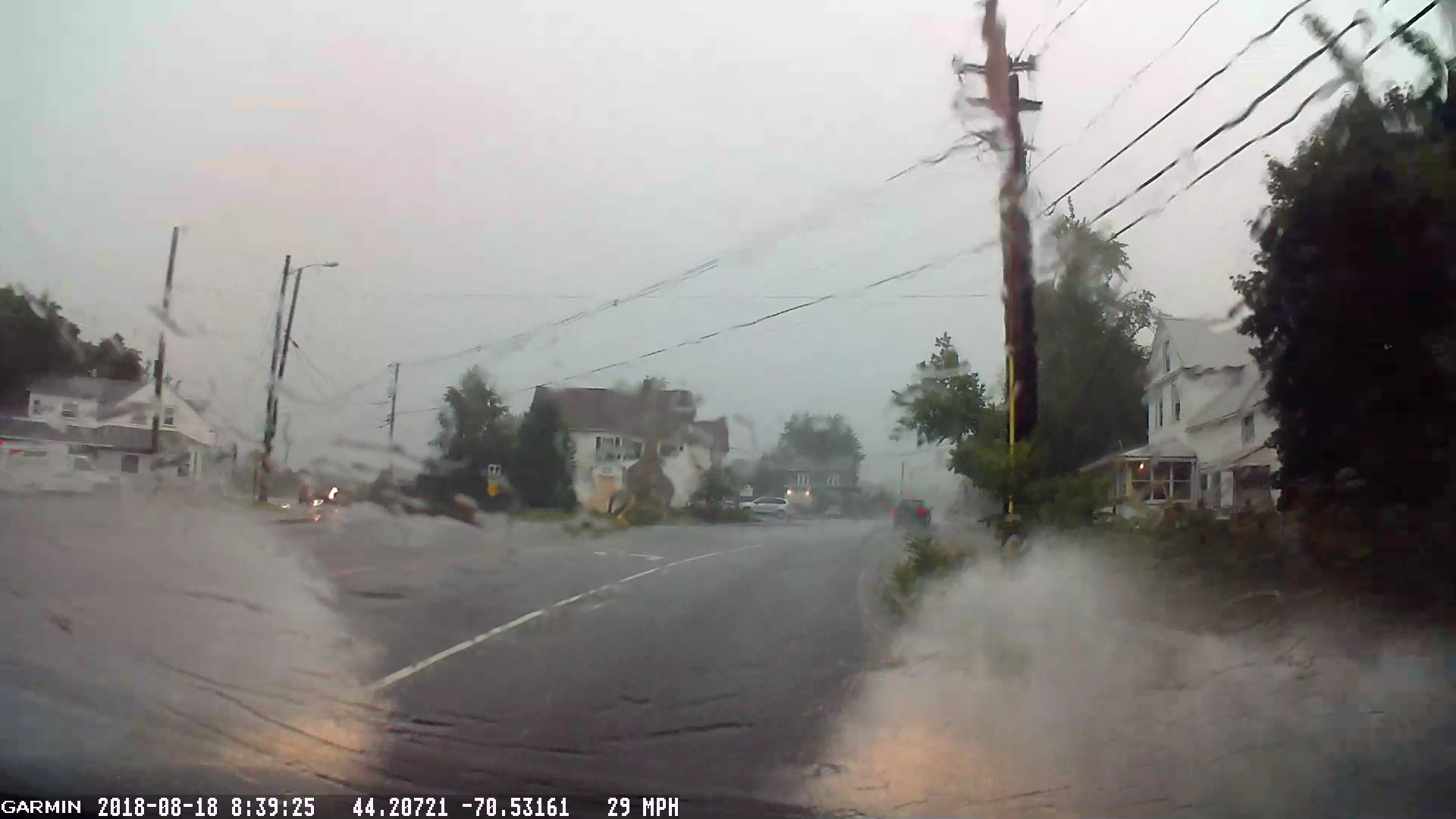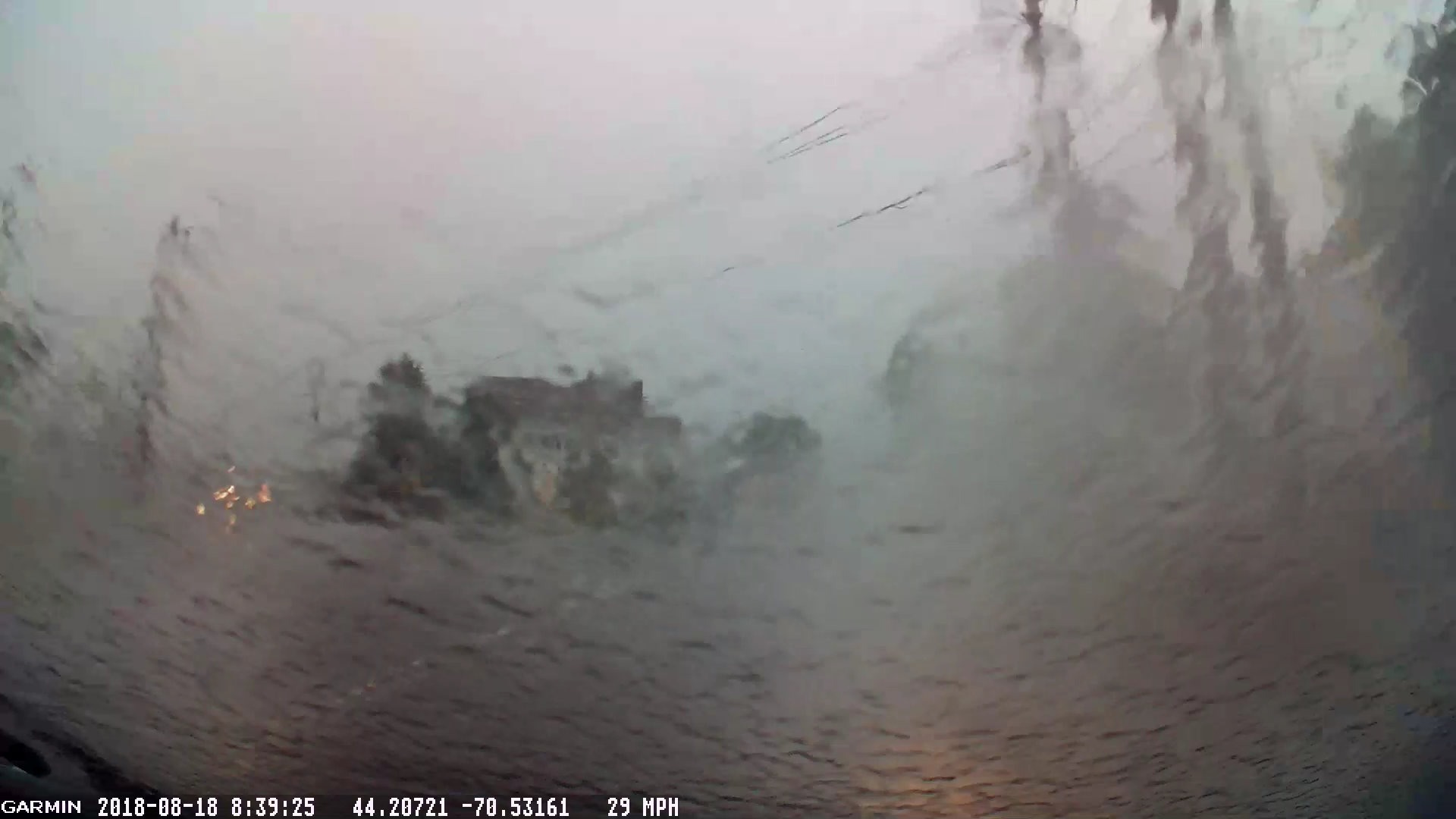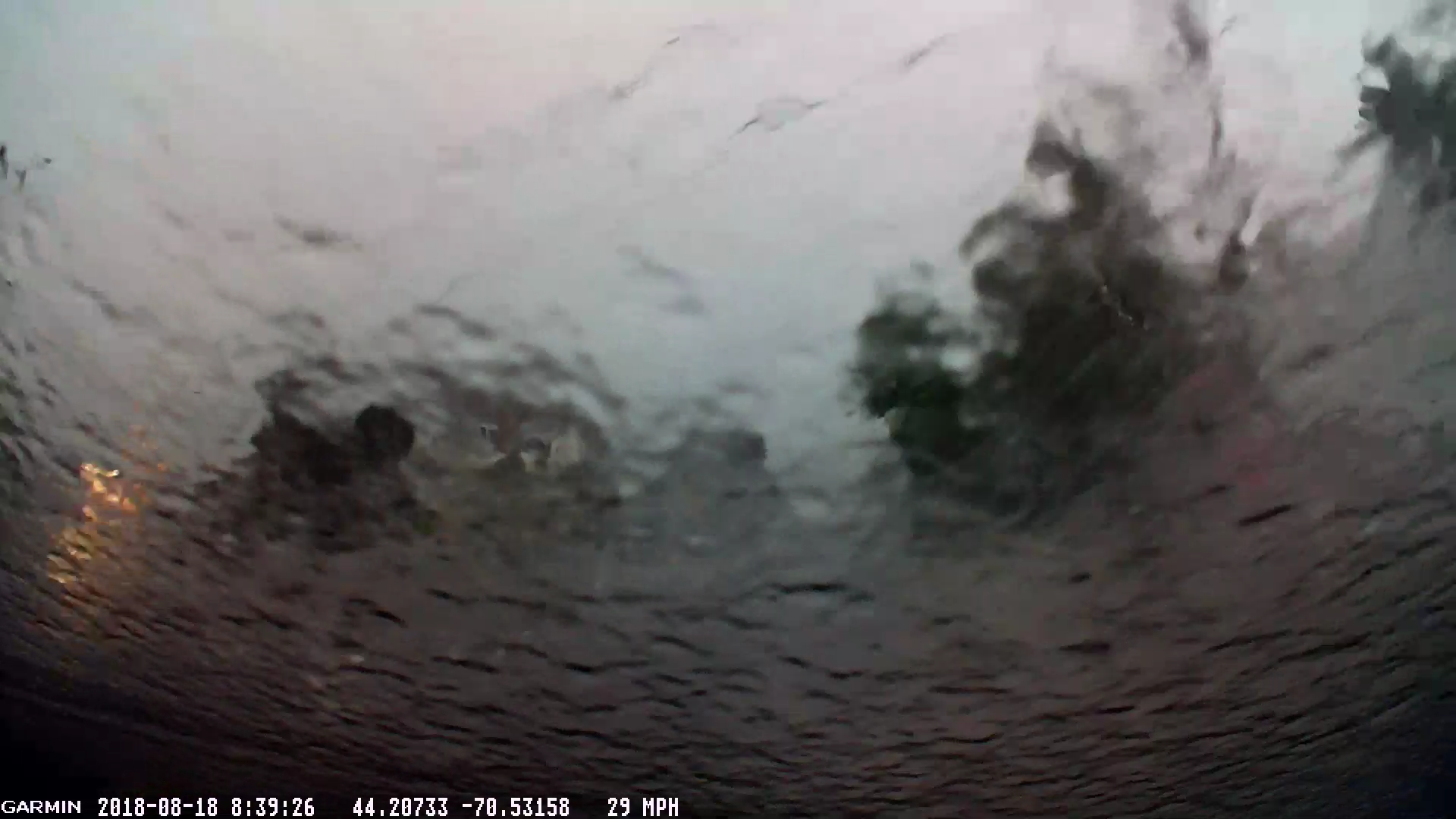 The drive out was raining like crazy. Puddles splashing water over the hood, huge splashes from other cars. It was great, but made me nervous. I wanted to get wet this trip, but this was a lot of rain. By the time I turned onto Bear Road, basically the park entrance, the rain had stopped. I was expecting, and hoping it would still be a downpour.
After talking to a few NOBO's I found out that it had been drizzling all morning, but that it was pouring the evening before, and during the night.
Getting my stuff together at the parking lot I started up to Old Spec by about 10:30. Old Spec is about 4 miles from the parking lot. I started out with 1L of water, since I knew there were several good water sources along the way. I had a nice strong start, and keep a good pace. Along the way I talked with 3 groups of thru hikers, and 2 groups of day hikers. The last guy had a dog that was way ahead of him, not on a leash, and had scared the crap out of me. At least the dog was very friendly. I think I realized it scared me and was being extra friendly. I was sure to tell the guy his dog scared me and I gave him a look that said I didn't much appreciate it. I wish people would keep better control of their dogs. I love well behaved trail dogs, but most dog owners are are oblivious.
I entered the clouds at about 3100 feet, and it was misty, then drizzly the rest of the way up. Arriving at the top of Old Spec at about 13:00, it was getting chilly. I decided not to have lunch up there, and instead checked out the camp sites I had heard about. 2 of them actually, and not too bad. After that I headed south down the trail towards Bull Run campsite. I hadn't yet decided if I would spend the night at Bull Run or keep going to Slide Mt. campsite.
There were a few steep sections, but for the most part, it was a nice steady grade down. Only ran into one couple. There were a couple deep mud bogs to avoid, and the brush was very dense. If I wasn't already wet from the rain, the bushes took care of getting me soaked from my arms down to my feet. There was also a lot of raspberry bushes, which were not friendly to bare legs.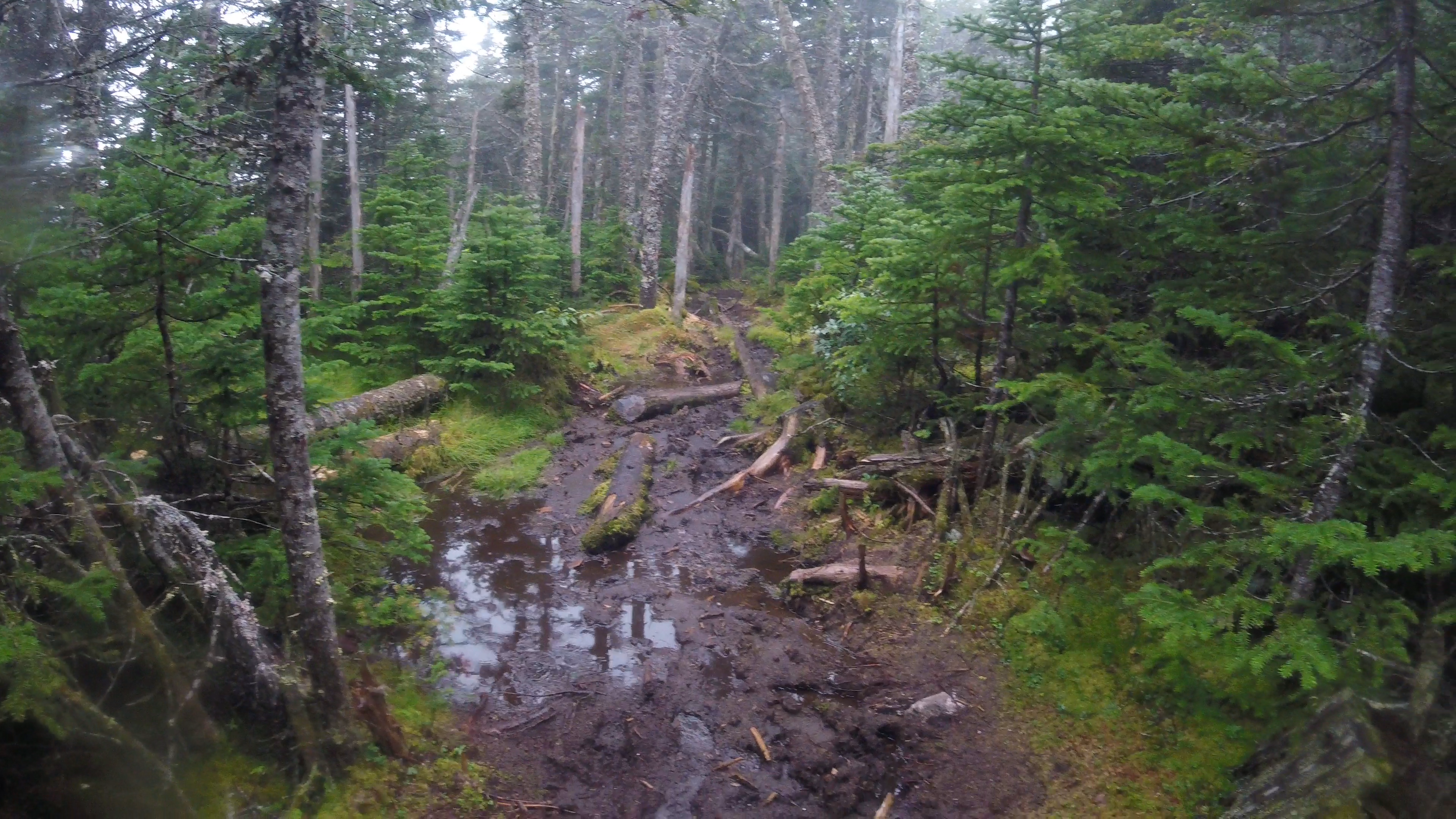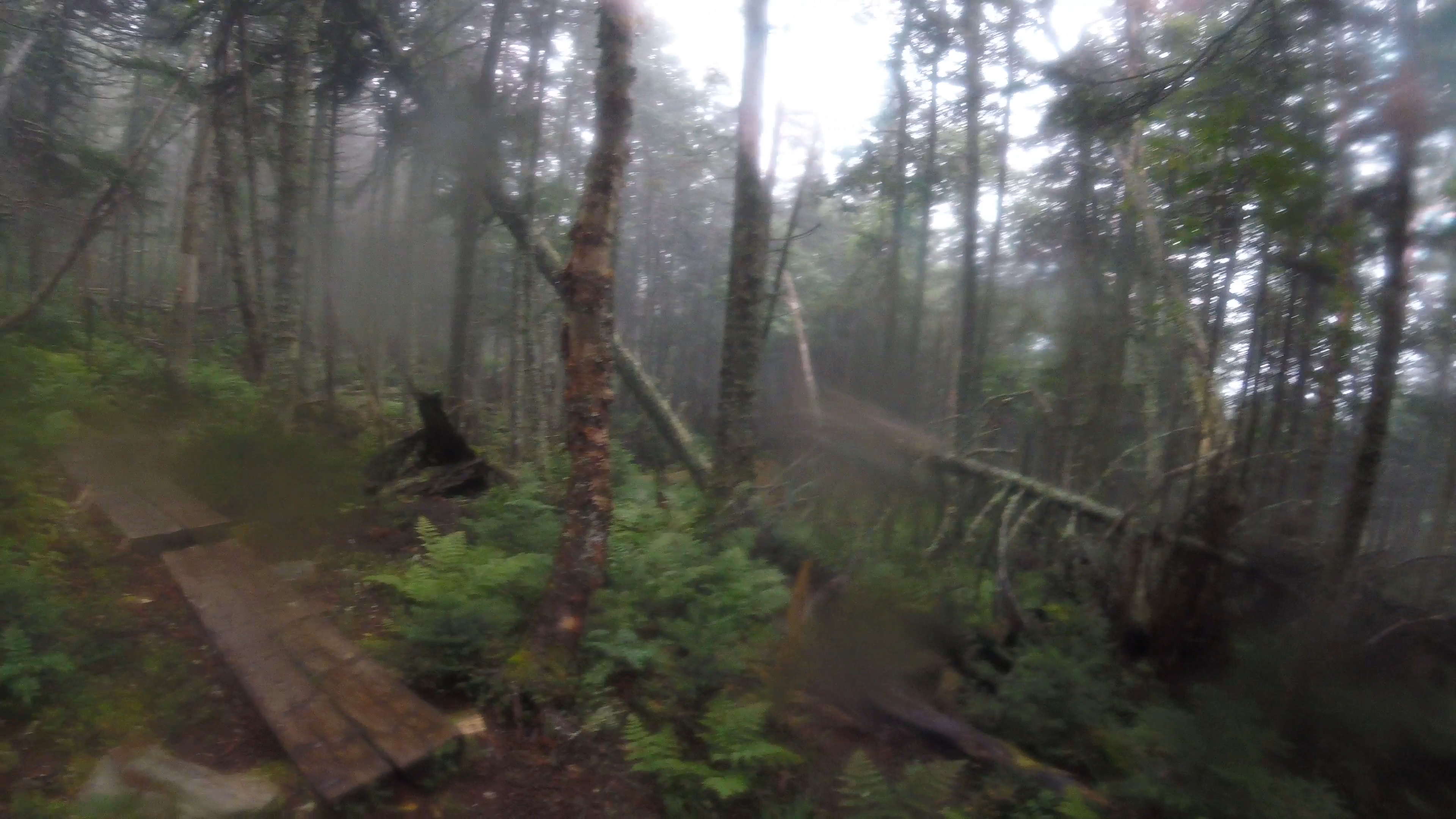 I arrived at the Bull Run campsite at just after 14:00. I decided that I would go stay at Bull Run since I was expecting a thunderstorm at 15:00, and decided I wanted to have my tent setup before the rain started. The site was well marked. Water source is just a short 300 feet down the hill from the main trail. Worth getting water at even if you are continuing on. The water is a nice flowing brook. After crossing the water, the camp a very short hill up, and the trail opens up into a nice camp. To the right is a 3 tent group platform. To the right of that is a ground site for 1 tent. On the other side is a bear box. Straight head is a trail that leads to the privy to the left. To the right is a single ground tent spot, and continuing to the right is a 2 tent group platform, which I stayed at.
I discovered a cool way to make staying on a platform easier to stake out your tent. Instead of trying to tie your lines to the platform loops, just feed your line through the loop, then use your tent stake as a lock. However, unless there is tension on the line, your stake will fall down. This is where having a stake with holes in it comes in really handy. You can feed a stick through a hole, and that will keep your tent line from slipping off.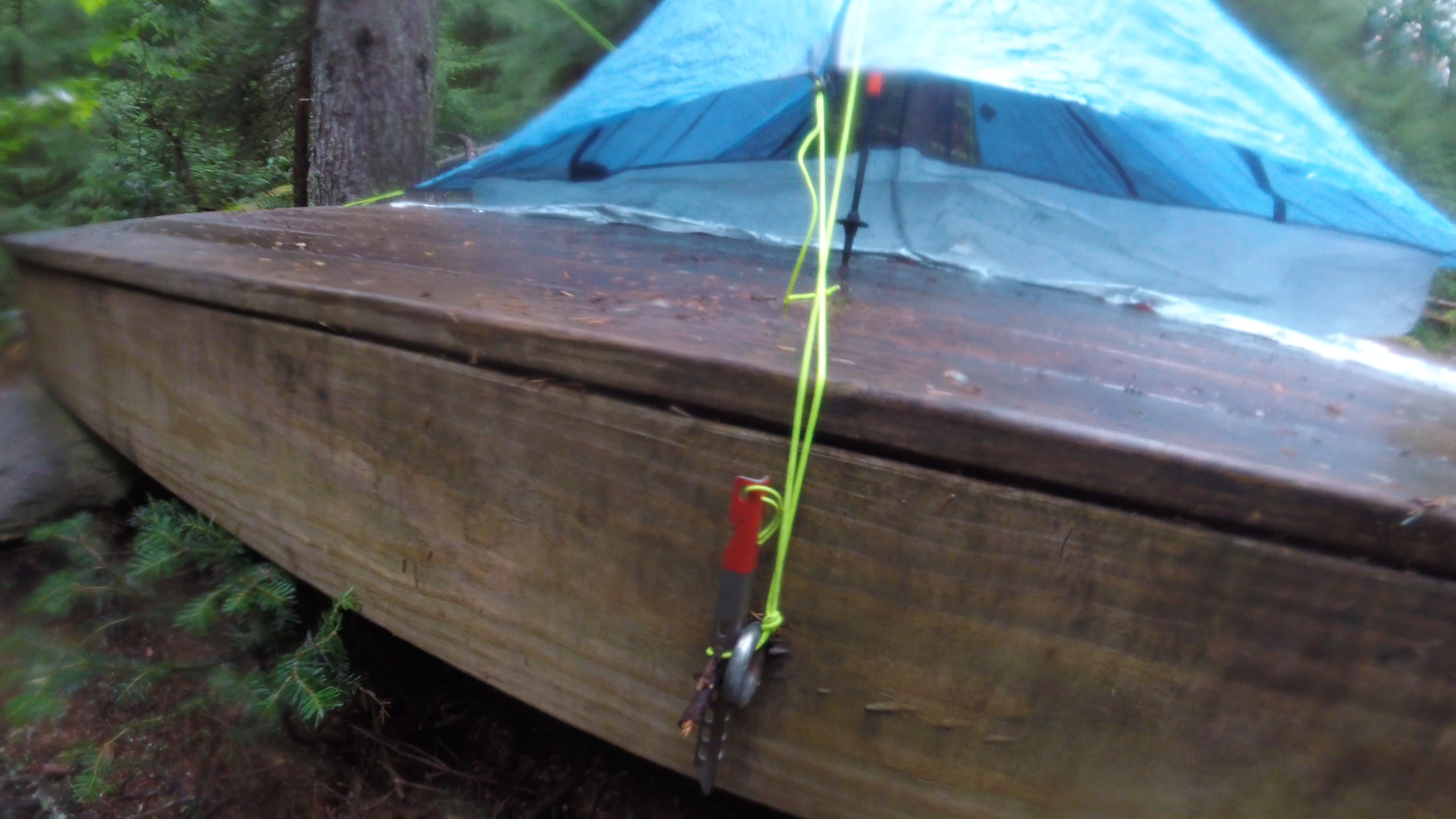 This techneque was really easy and fast. However, I did have to tie out the two lines on one side of the tent. In that case, I had some spare rope and used a sheet bend knot to join the extra rope to the loop of the tent rope, and a rolling hitch which is adjustable to take up slack in the rope.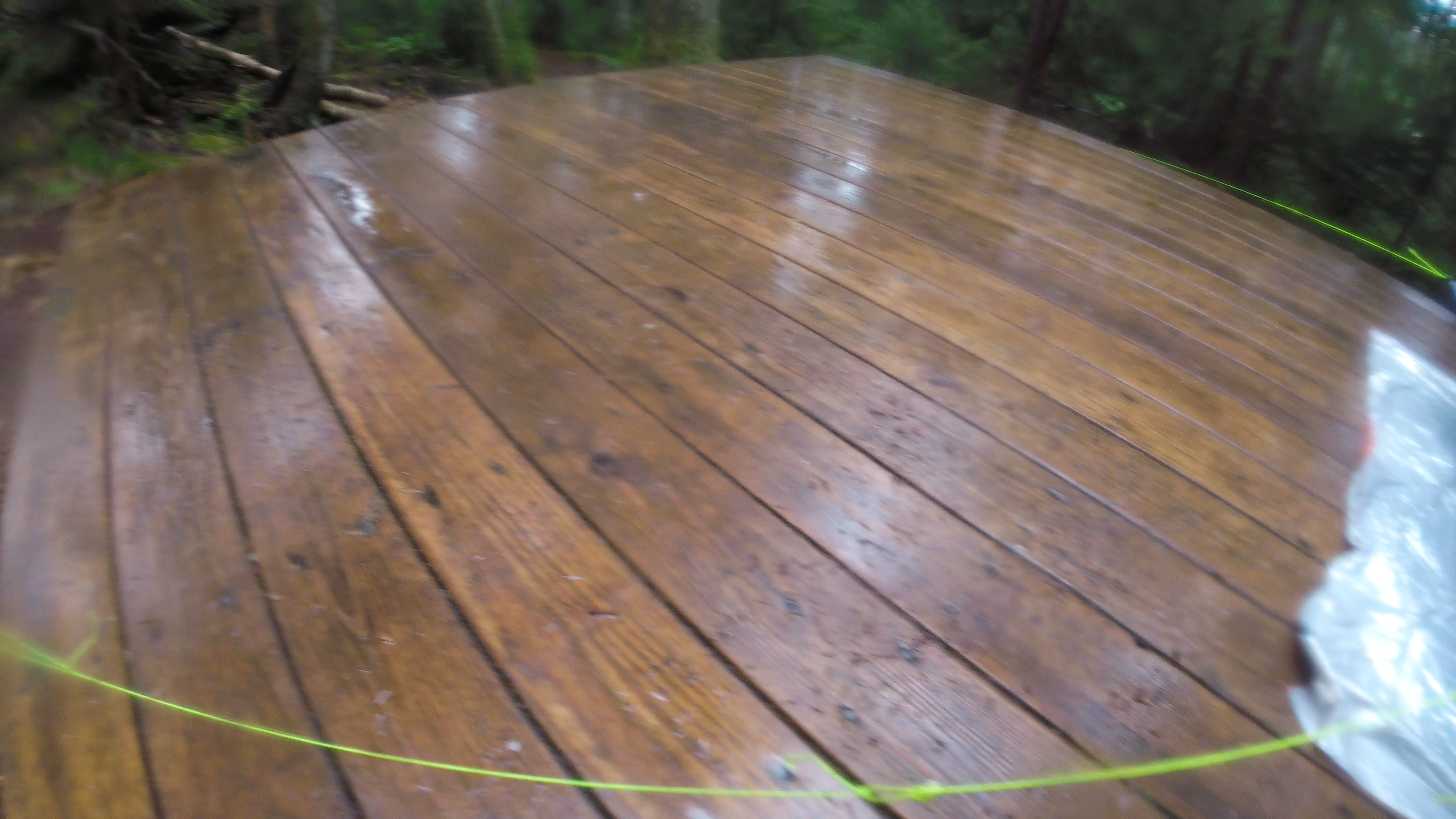 The tent spot before my platform had a backpacker from New Brunswick named Josh. His tent was a knock off of the Zpacks Duplex. Made of white fabric, it had one really nifty feature. It was a tent and rain fly, but the inside was completely removable. You could then use the rain fly as a tarp. We chatted a little, talked about some of the trails he did in Canada, and the trail conditions of the Grafton Loop.
I had my unstuffed peppers for dinner, which was more tastier then I was expecting. But because it used parmesan cheese, it left a cheesy mess on the pot. Needed the scraper to get it all cleaned off. Breakfast was oatmeal and peaches.
Daily totals: 5.3mi, 3h41m, 42min/mile including breaks.
Day 2
I slept fairly well, listening to Dean Koontz's Bad Place audio book. Not a lot of scary monsters. Was cold enough to keep all the vestibule flaps closed, and I was also worried about surprise rain. So I kept it all closed. Disappointing that there wasn't more rain.
Pretty good story, although I didn't like the Tommy character. For some reason the book had 2 narrators. One female, the other male. Both were decent, but I just didn't understand why they needed two of them. Every time they changed, it would rip you out of the story, and you would need to settle back into it with the new narrator.
After breakfast I was on the trail by 8:45. Later then I wanted. The bushes were still very wet, and still very dense.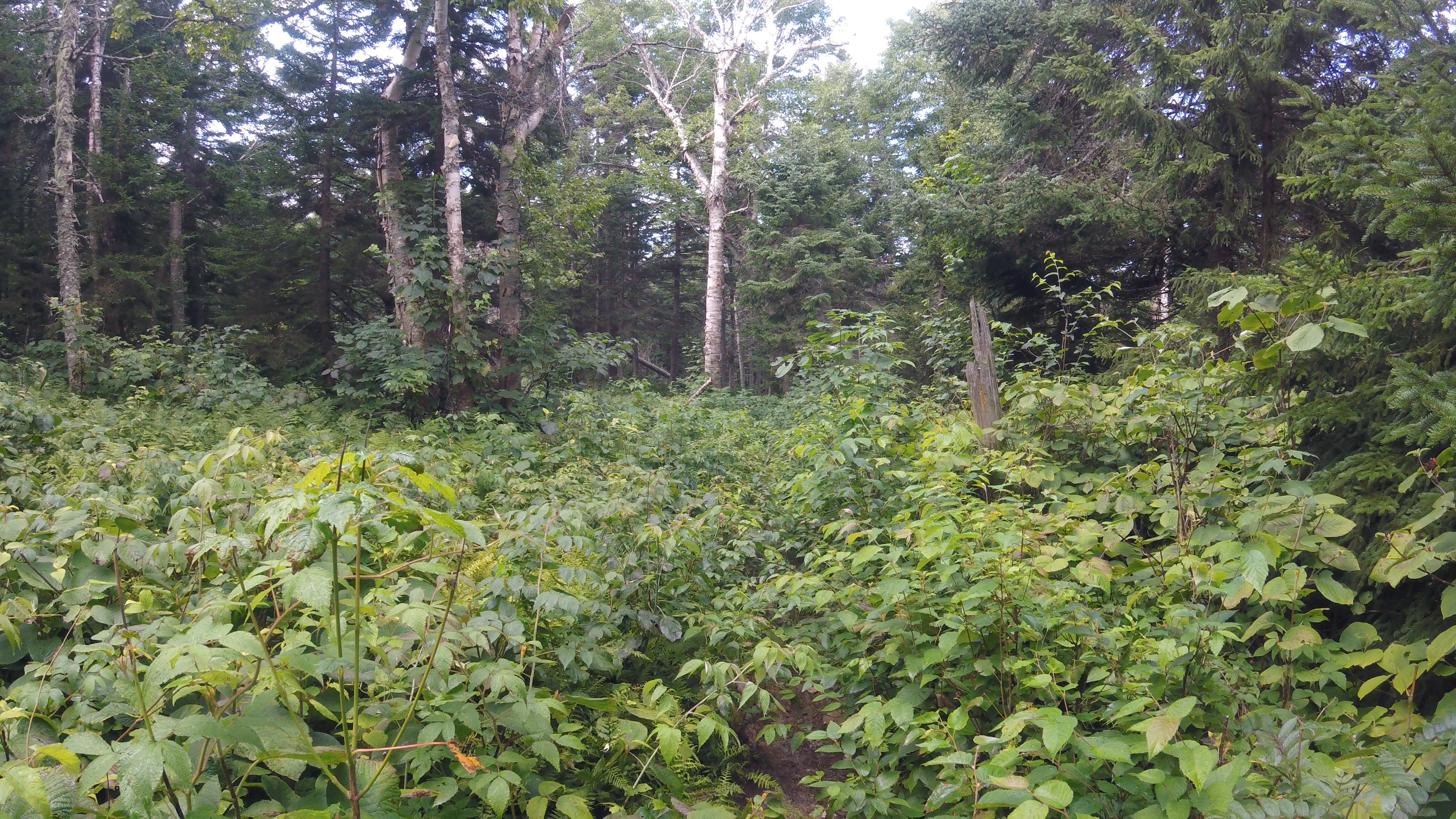 Slide Mt tent site at 9:10, 1.1 miles from Bull Run, and is 100 yards from the main trail. Also the water source was 25 yards before the sign for the tent site. Old Spec is 3.0 miles from this point.
Sunday River Whitecap is just 1.1 miles before the Sarget Brook campsite and offers a fantastic view. I got to where it starts opening up at about 10:55.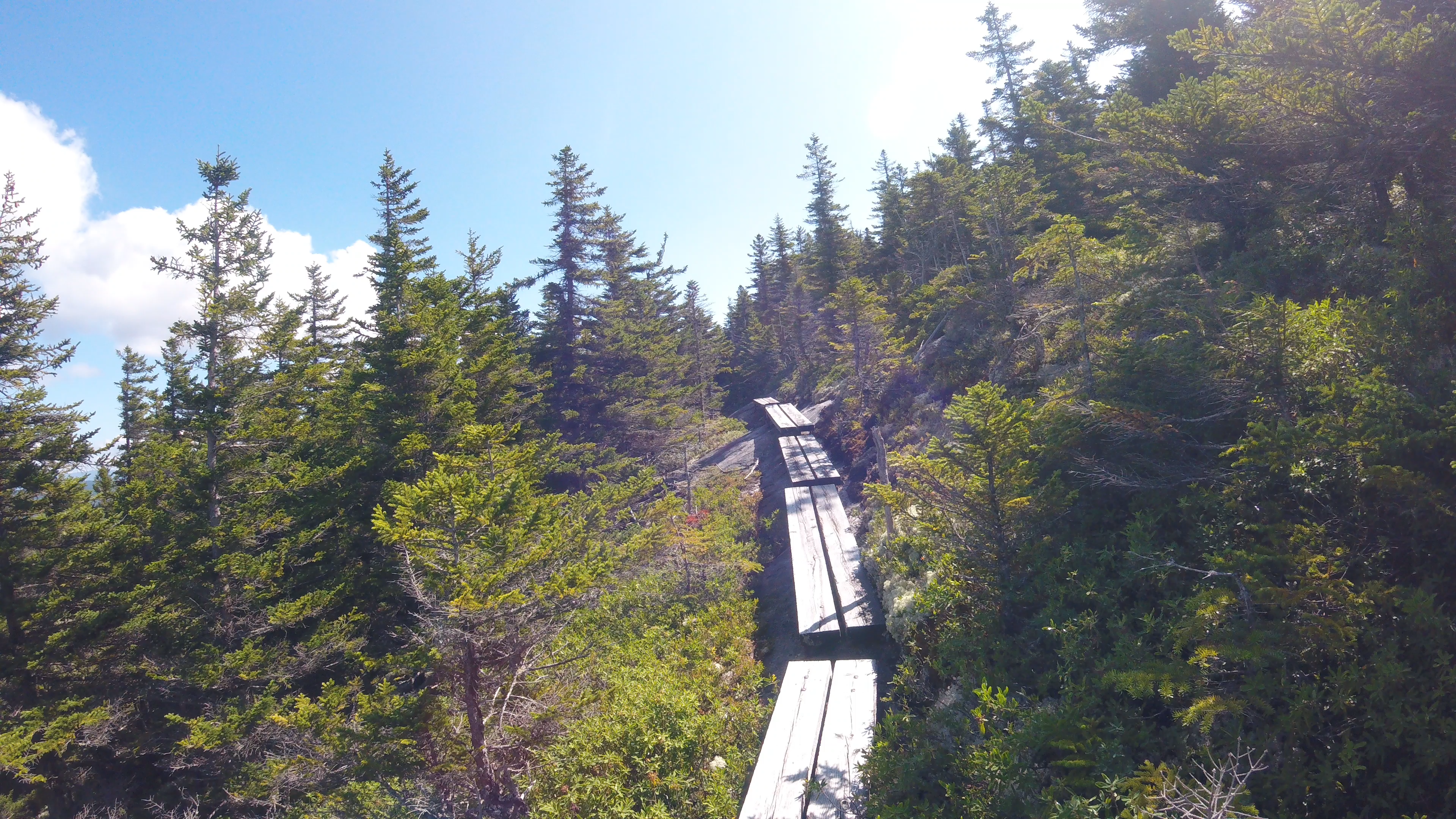 You had to cross boardwalks and climb stairs before things really opened up and gave you a look at the peak.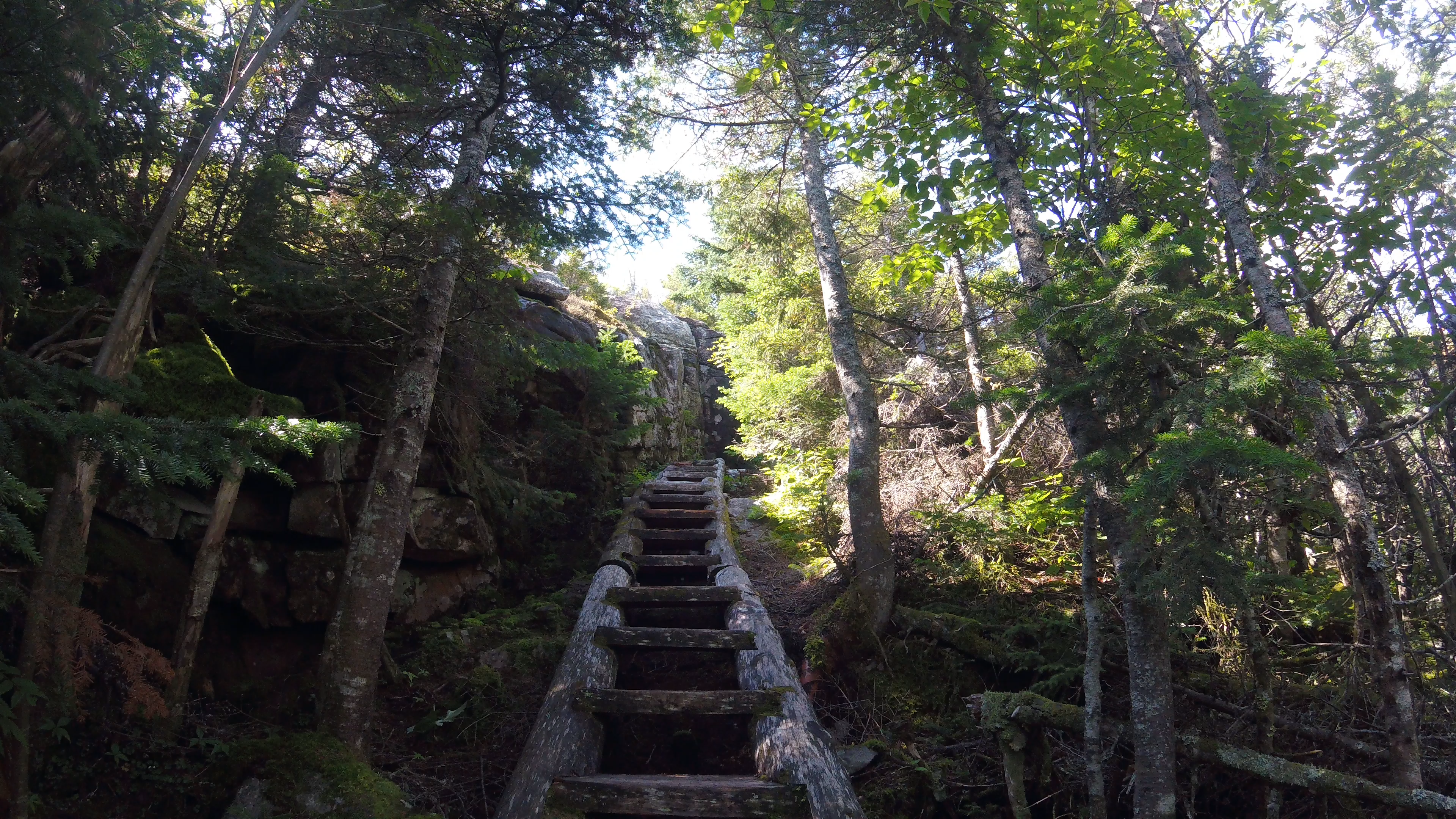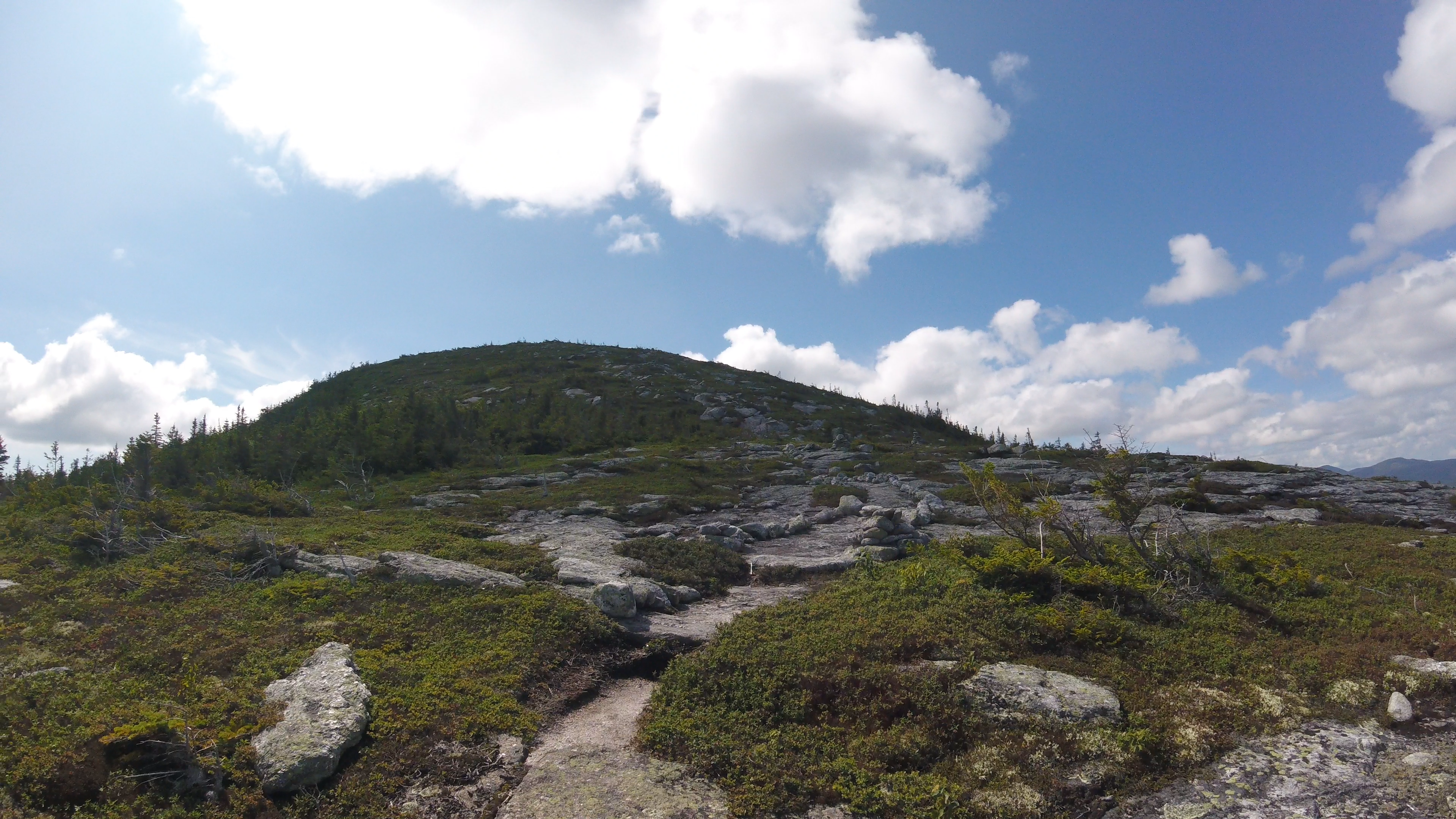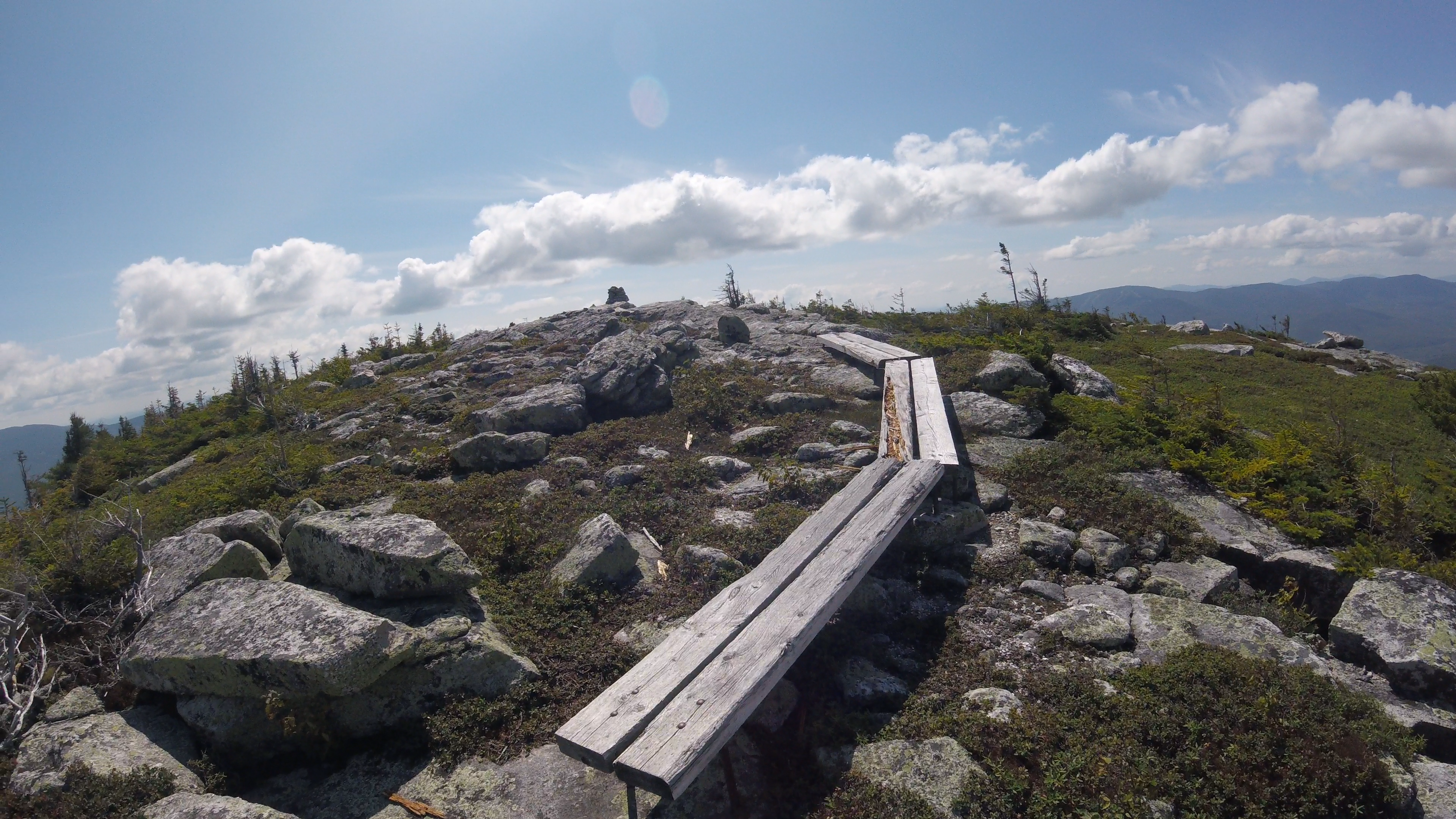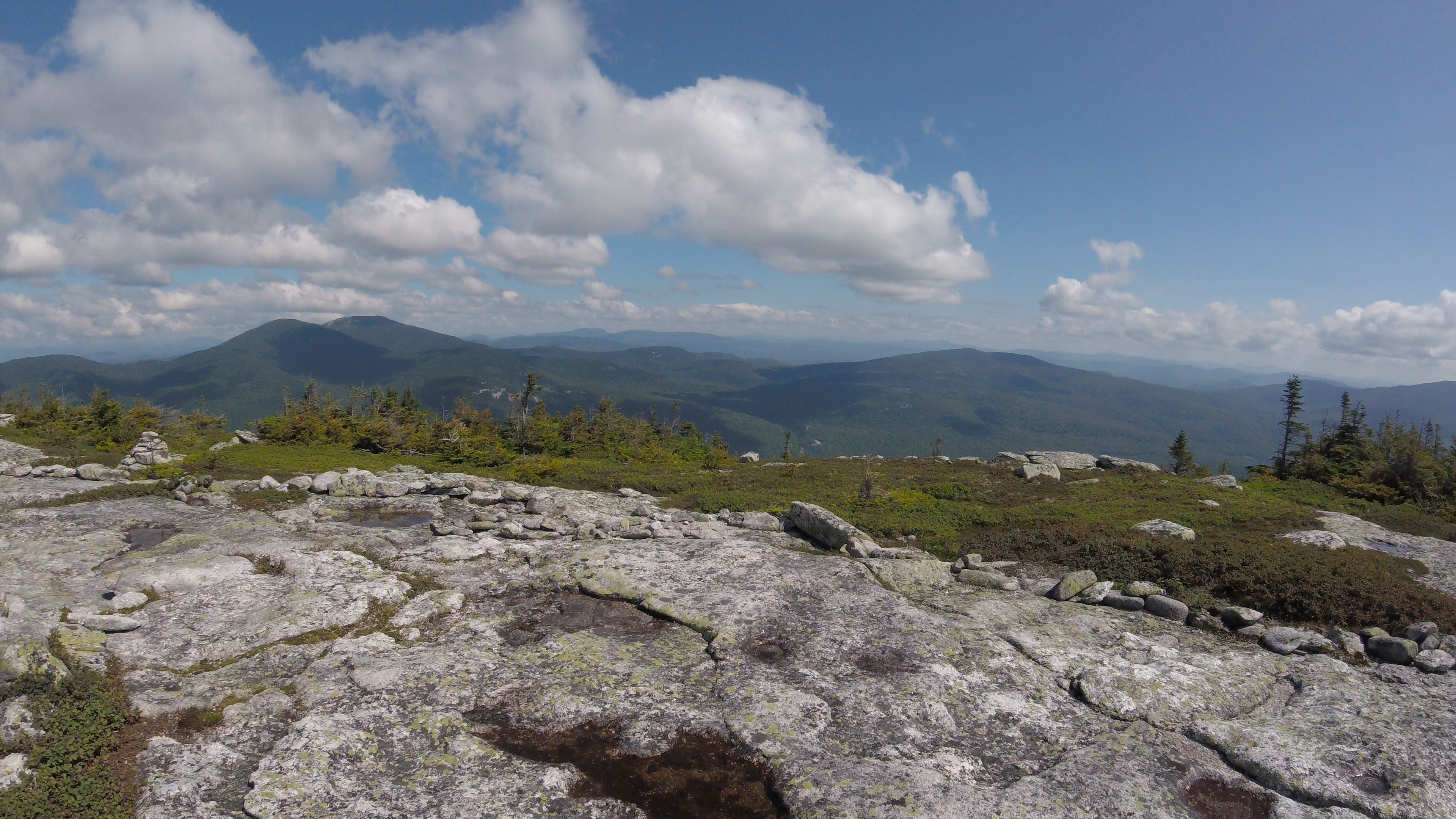 It took about 10 mins to get to the top. A perfect lunch spot. I even got service on my AT&T iPhone. Normally don't get very good reception in the wilderness.
Heading down back into the woods was a lot of bare trees, and a very large patch of mushrooms.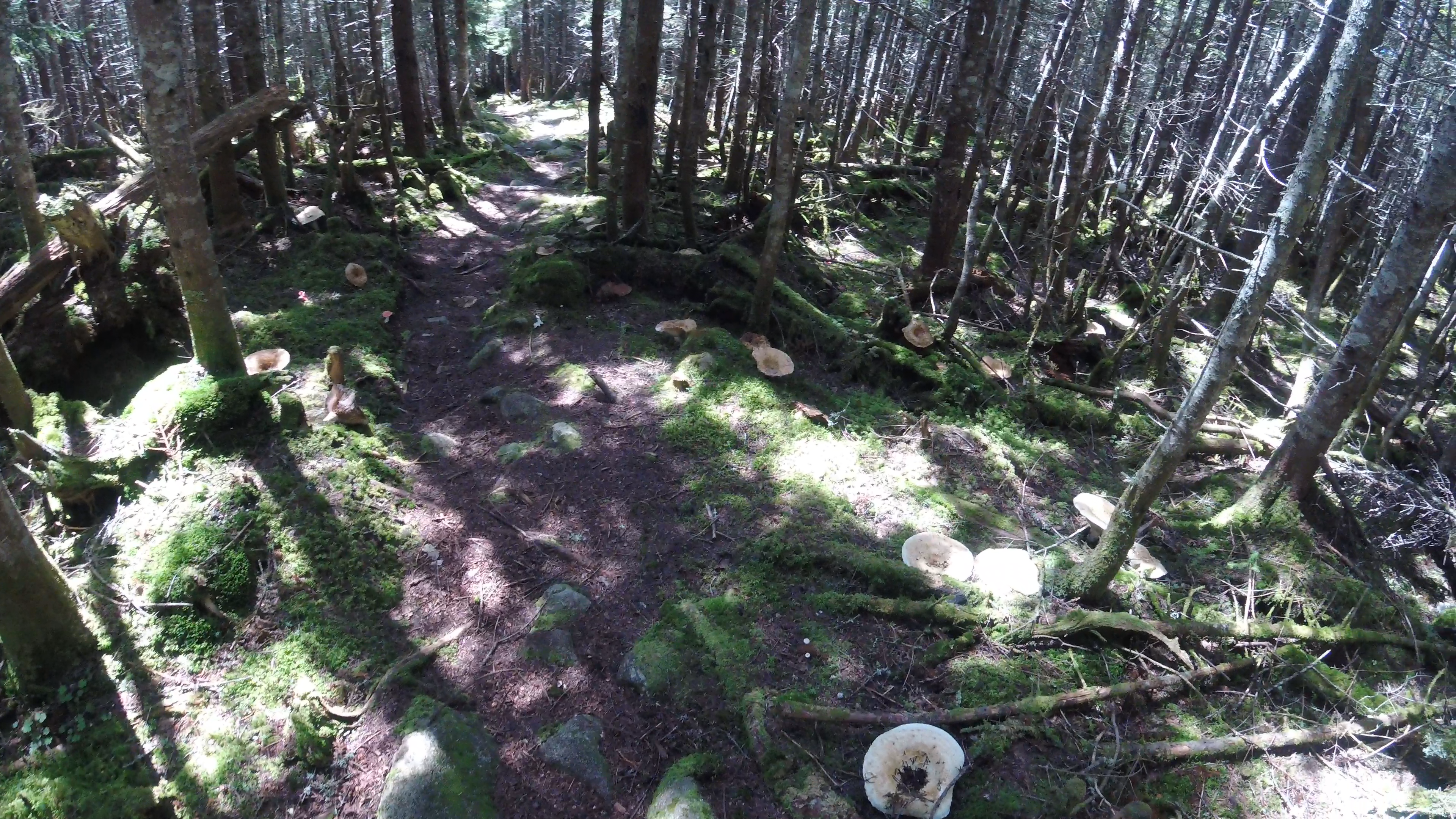 I can't help but wonder how but the mushroom is underground.
Sarget Brook campsite arrival time was about 12:30. 4.2 miles from Slide Mt, and 1.1 from Sunday River Whitecap peak. I got some water from here as I was almost out. Water is 50 yards and the campsite is 0.1 miles from the main trail. The water source wasn't all that impressive, and I had to question how reliable it was in dry times. However since it's at a camp, I would assume it should be reliable.
Tent spots where on the ground. The first site had enough room for one tent, the second site, which was also on the ground probably had enough room for two tents. No idea why the second site had buckets at it.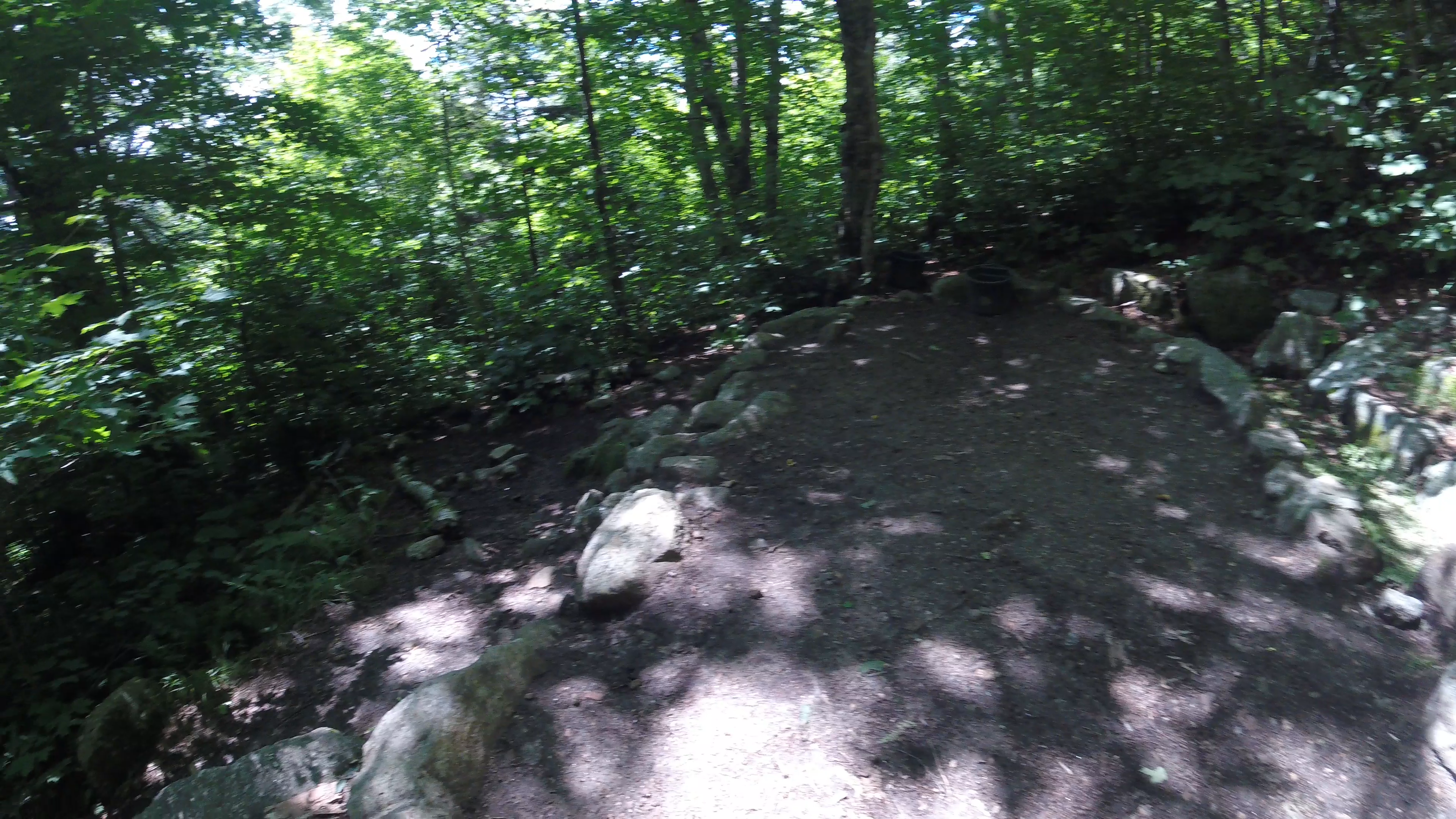 There was also a bear box at this site.
After getting water and having a little snack, I was on my way to Bald Mt camp site. Along the way was a nice little rocky clearing I had a break at.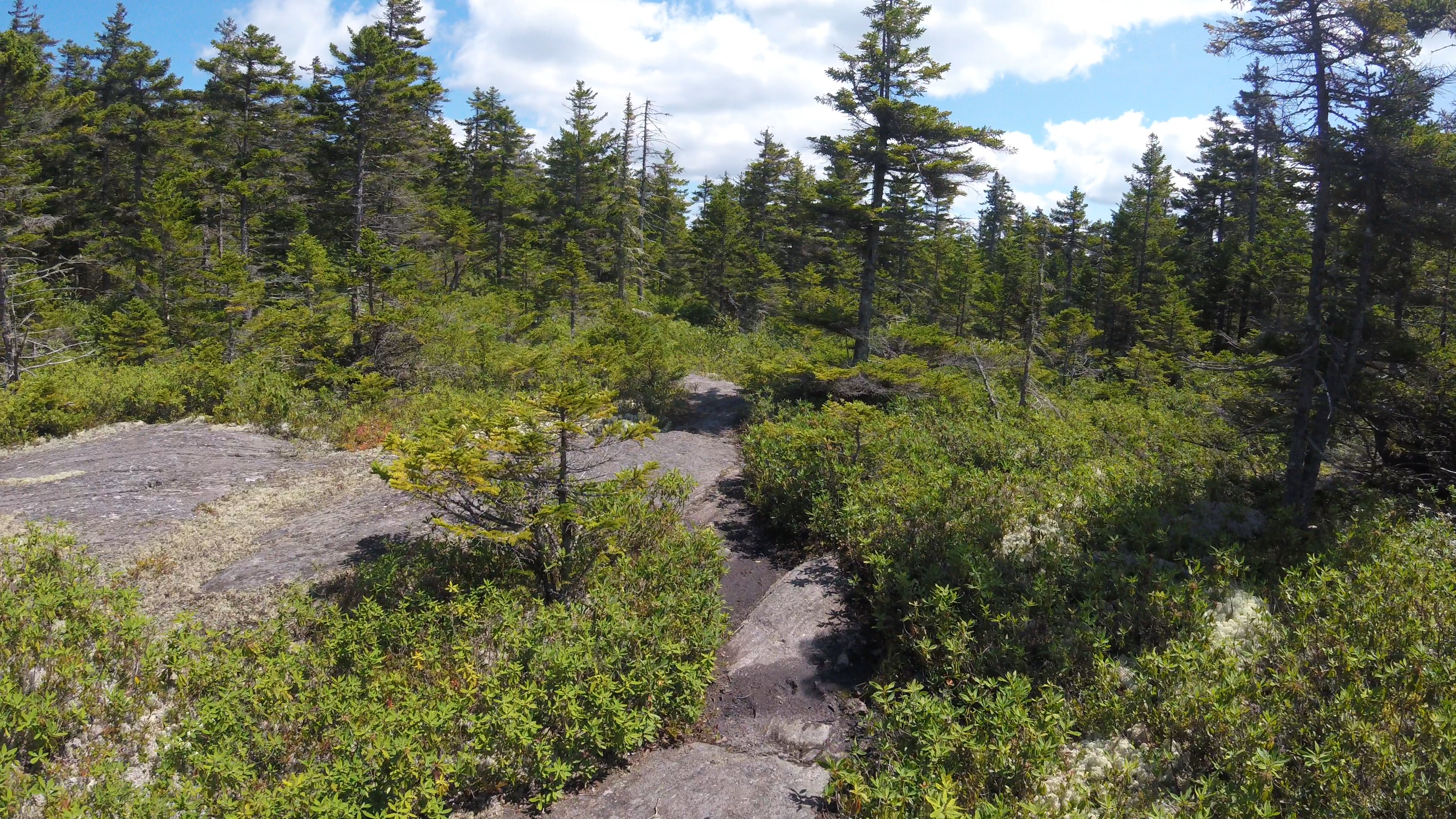 About a half our past the clearing you come upon your first set of stairs. It might interest you to know the total number of stairs for the trip was 92. 72 of them were on the western side of the loop.
Bald Mt arrival time was about 15:30. About another hour and a half. The sign for Bald Mt campsite didn't make it clear where the site was, as the sign was just leaning against the tree, and the trail wasn't obvious.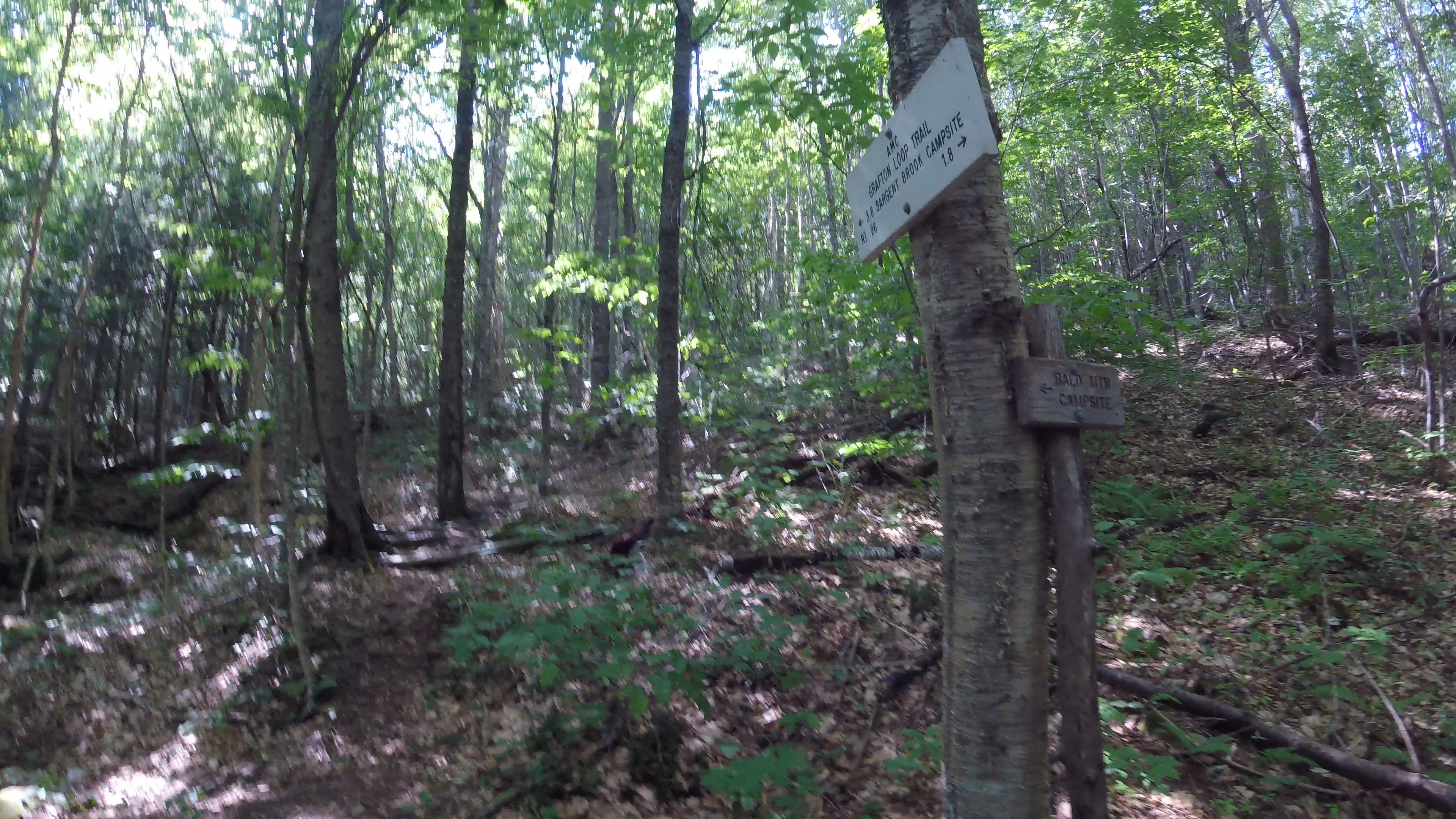 But after looking around a bunch, I did see a cairn and the trail heading towards the water, which made sense.
The site had a strangely empty feeling to it. I came to find out that wasn't the only thing strange about it. I had the campsite to myself, and had mexican beans and rice for dinner.
This night was my worse on the trip. The owls were cool, but the sticks breaking were not. They didn't sound like the usual chipmunks and squirrels running around. I told myself it was just a deer. The next morning though, I was considering walking to the road, then just hiking the 7 miles on the road back to the car, or trying to hitch a ride. I was that shaken up.
Daily totals: 9.77mi, 6h45m, 40min/mile including breaks.
Day 3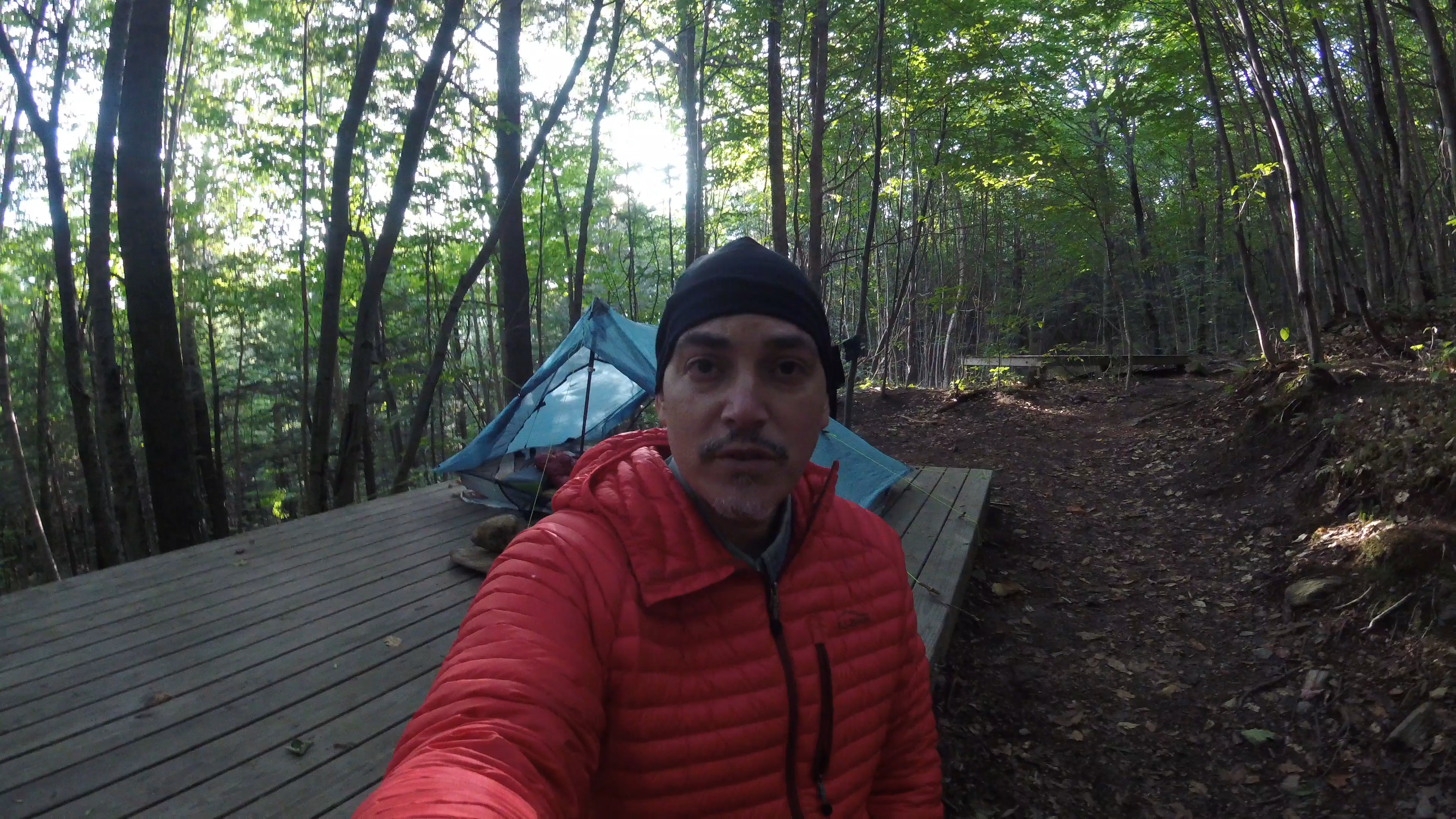 I decided just one bad night was not going to keep me from finishing! Breakfast was grits and eggs, which gave me a bad case of heart burn.
Got back on the trail by about 8:30. I had woke up about 6:30. I don't know how I ended up taking 2 hours to get breakfast and packed up. Gotta work on that, as I wasn't waisting time sitting around. I was either packing, cooking, eating or cleaning up. I'll have to see if I can get my time down in the future.
The trail is a fairly steady grade down, and follows the river. So carrying more then a liter is pointless, even though I carried 1.5L. The water goes pretty much all the way to the gravel road, where you'll see this sign.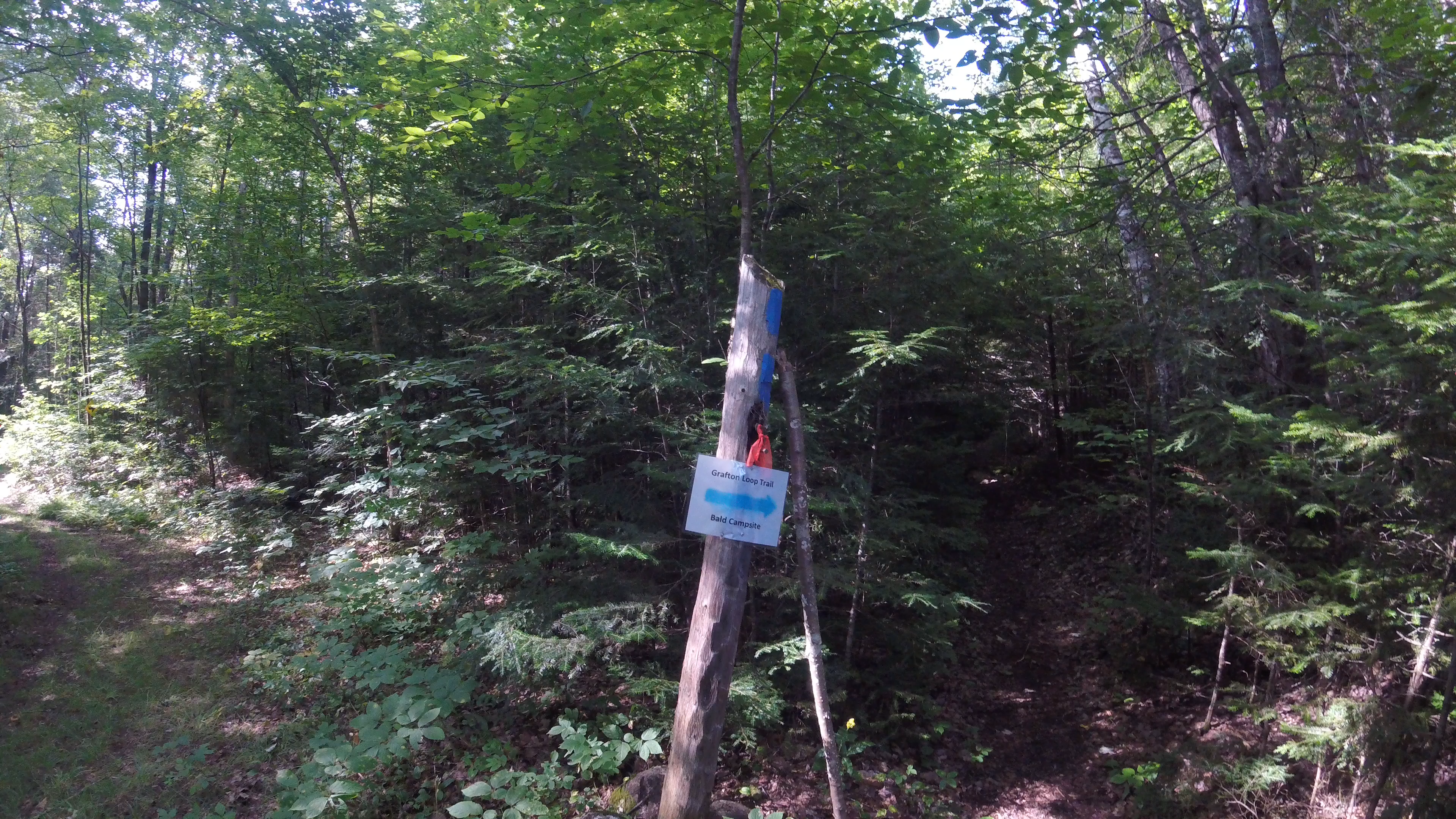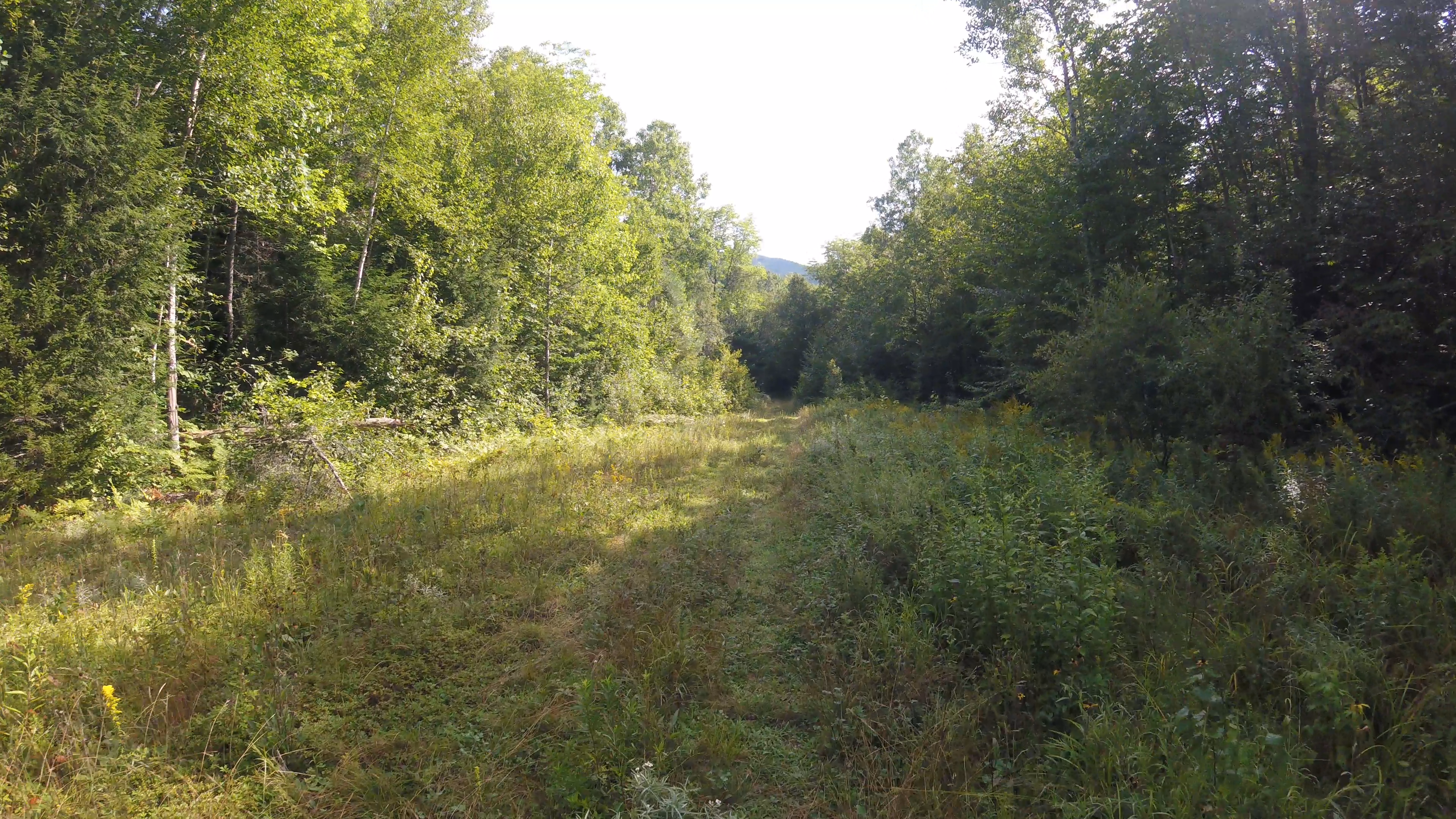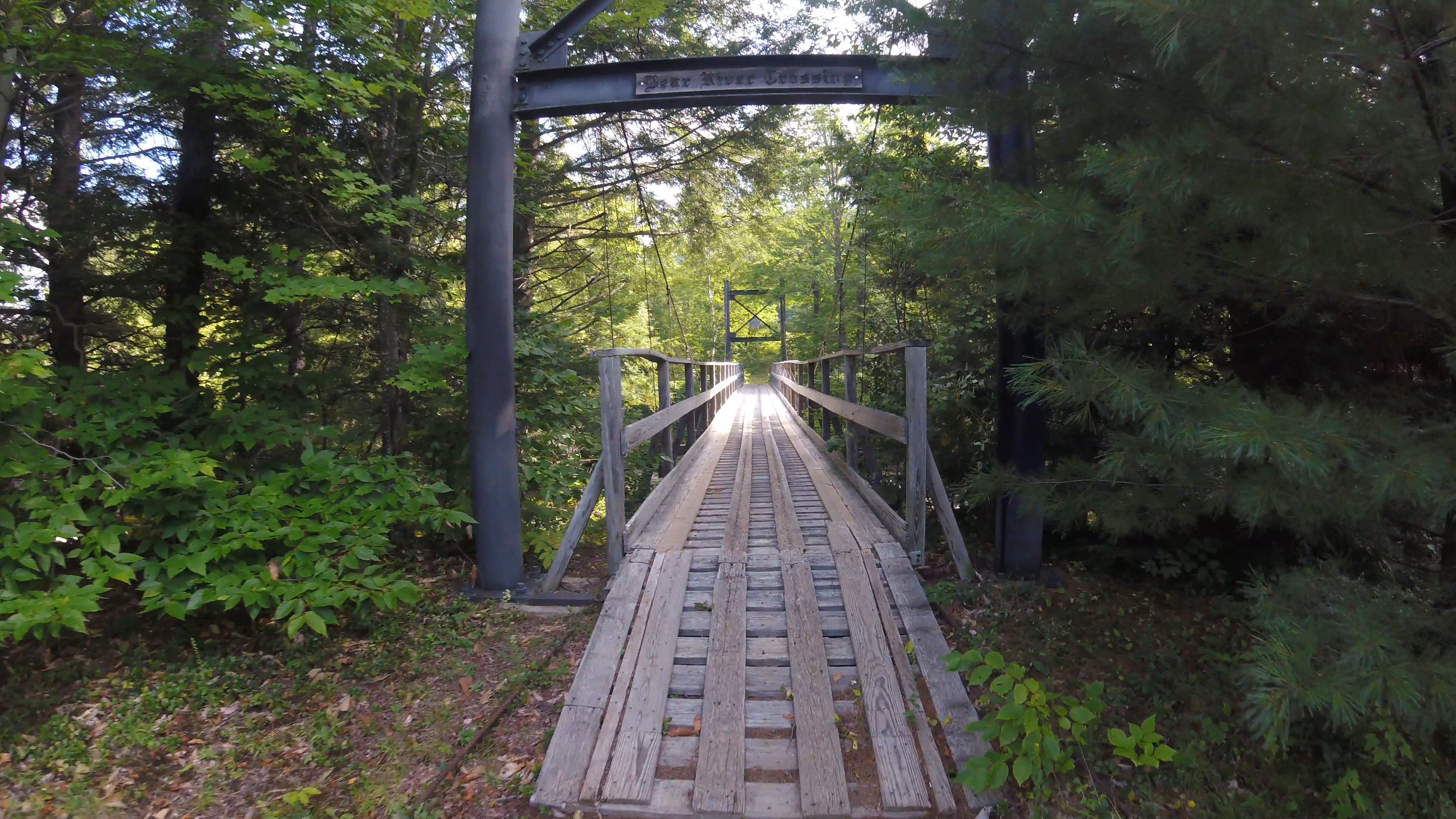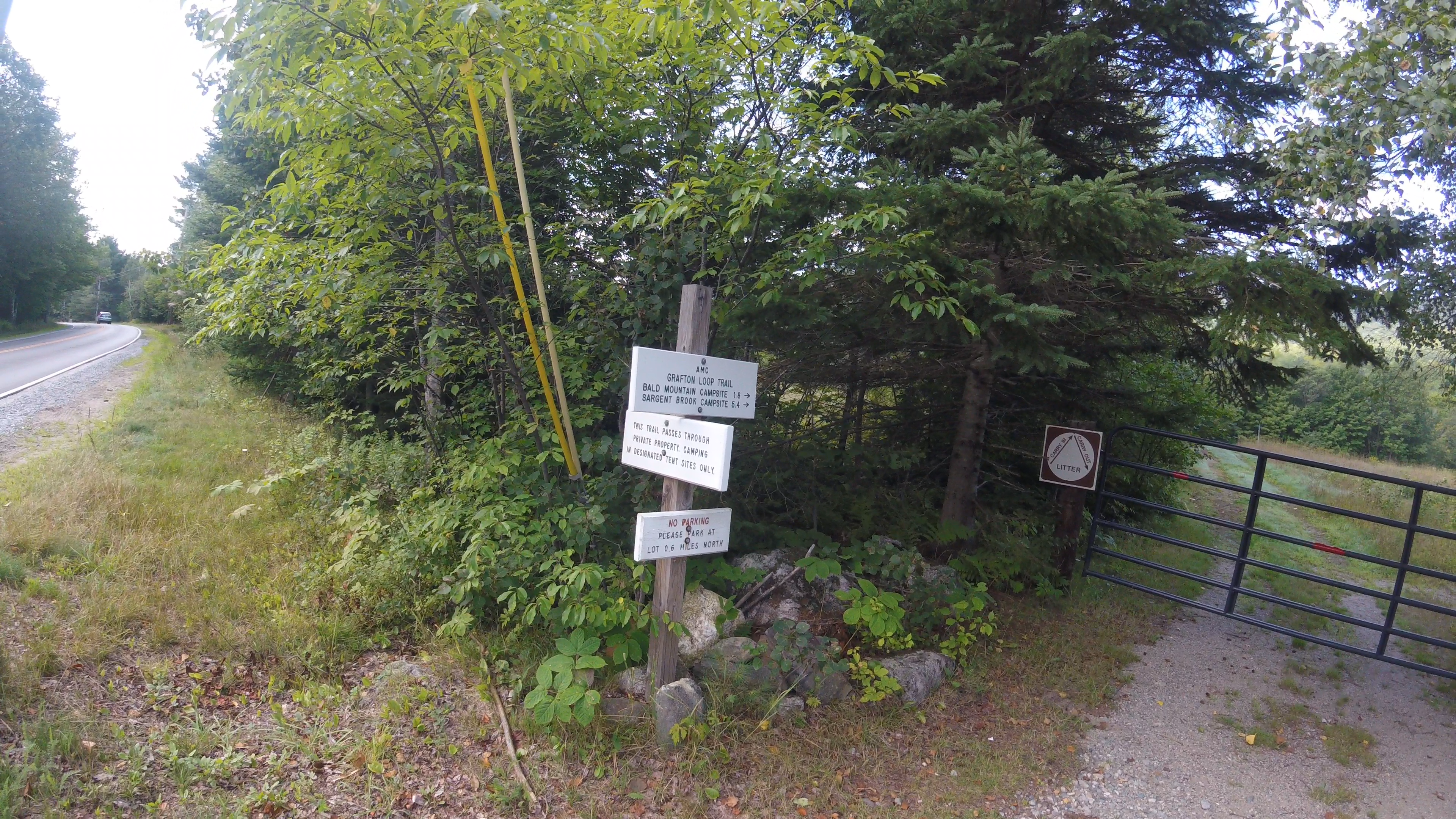 From here you are basically on an overgrown gravel road, where you will pass a large field, cross the Bear River Crossing bridge, that goes all the way back up to Route 26. Once at Route 26, you'll hit a metal gateway, and signs saying you are crossing private land, don't camp unless at the campsite, and no fires. From here it's 1.8 to Bald Mt camp, 5.4 to Sargent Brook camp, and a 10 minute 0.6 mile hike to the eastern half trailhead.
At the trailhead I switched out batteries for my GPS, had a little snack, and got myself ready rock it.
The Rematch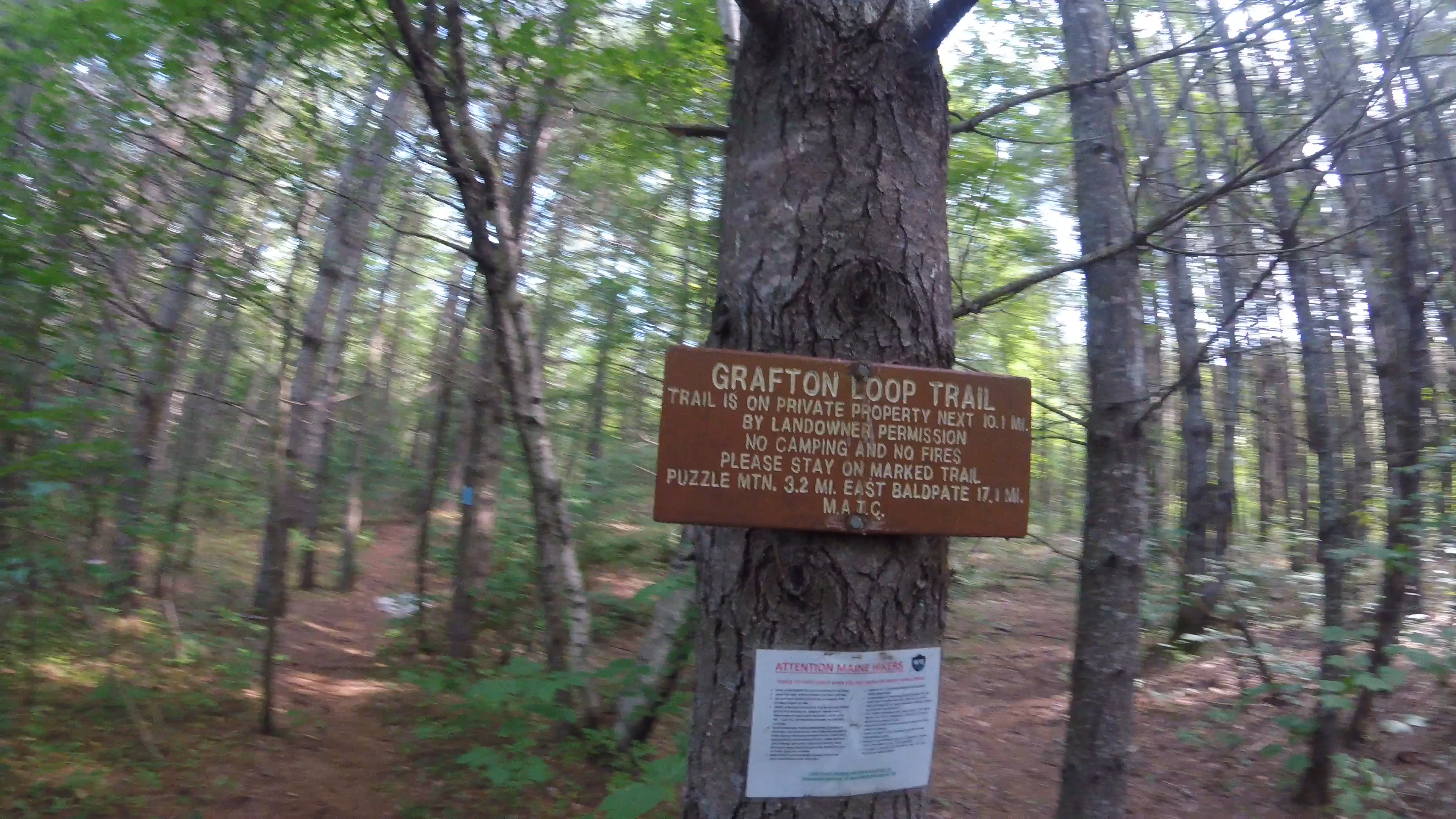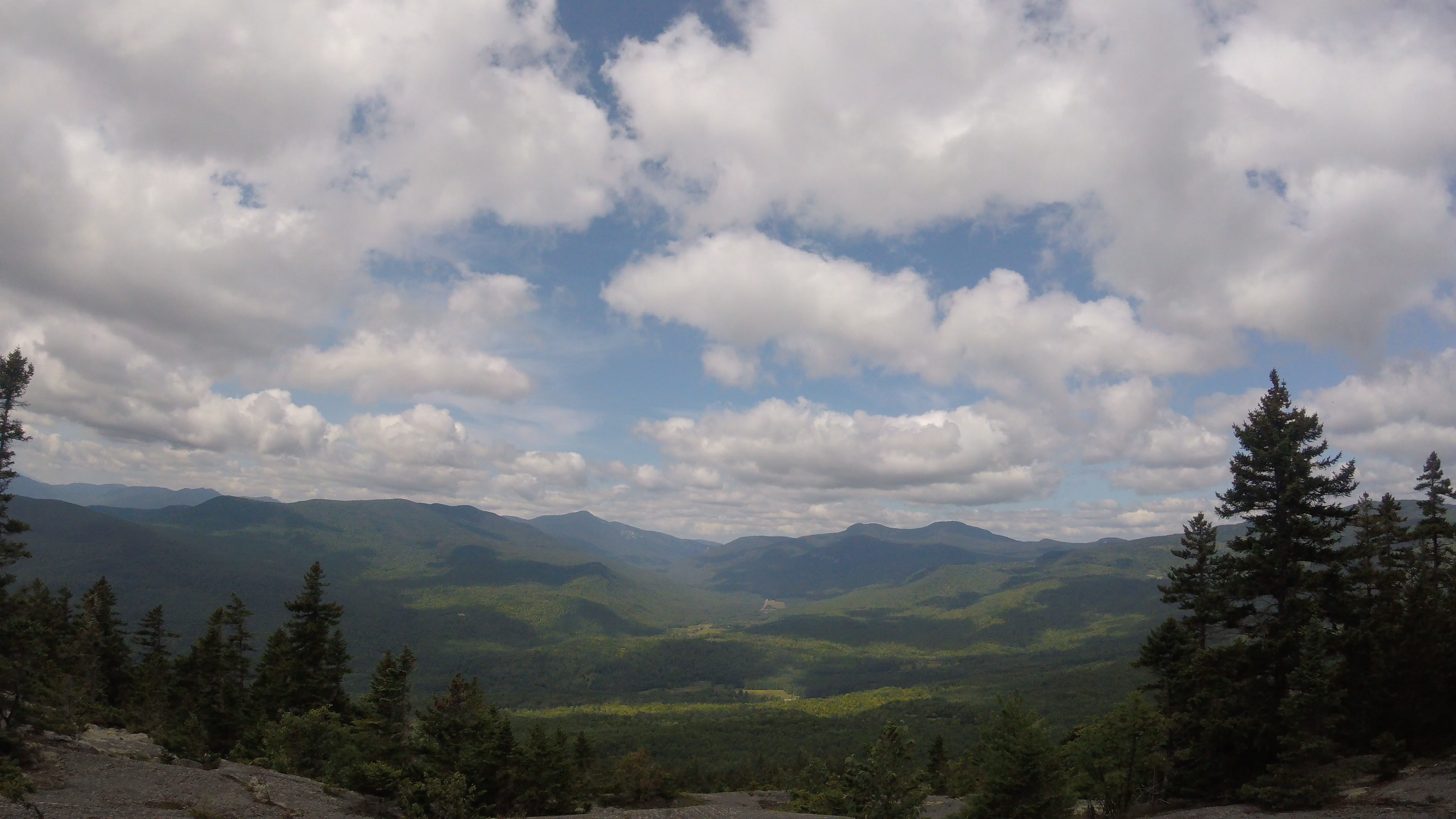 I was ready for my rematch. 2013 was the first time on the eastern half, with a group of 7 people. A few years later I tried going to the Stewart campsite, but turned back in disappointment. I had reached the top of Puzzle Mt, had my lunch and was ready to go down to Stewart campsite, only to discover I was not at the top, and had about 1.3 miles to go yet. I was totally deflated and pissed off at myself. I just couldn't go on and turned back defeated.
Five years later, I am a much stronger hiker, and have much lighter gear. A tent that weighs 21oz instead of 3 lbs. A bag that weighs 21oz instead of 4lbs. Every single item in my bag was lighter. I was carrying a little extra gear though, like rain pants, and a change of socks and underwear. This should be a cake walk. I'm happy to say that it wasn't a cake walk, but it was much much easier. I was able to enjoy it, take in the scenery, and keep hiking without the feeling I was going to pass out or fall over on my face.
The group had stayed at Town Corner campsite. So that was my destination.
Arriving at the clearing where I had thought it was the top, I took a short break, and continued up. I ran into Josh again and we chatted about the trail, water stops, and trails he did in Canada. Lots of coastal trips for him, so the mountains are a very nice change of pace for him.
Top of Puzzle Mt
Finally reaching the top, I was greeted by three golden eagles, or vultures, enjoying the wind currents. I continued towards Stewart after a short snack break.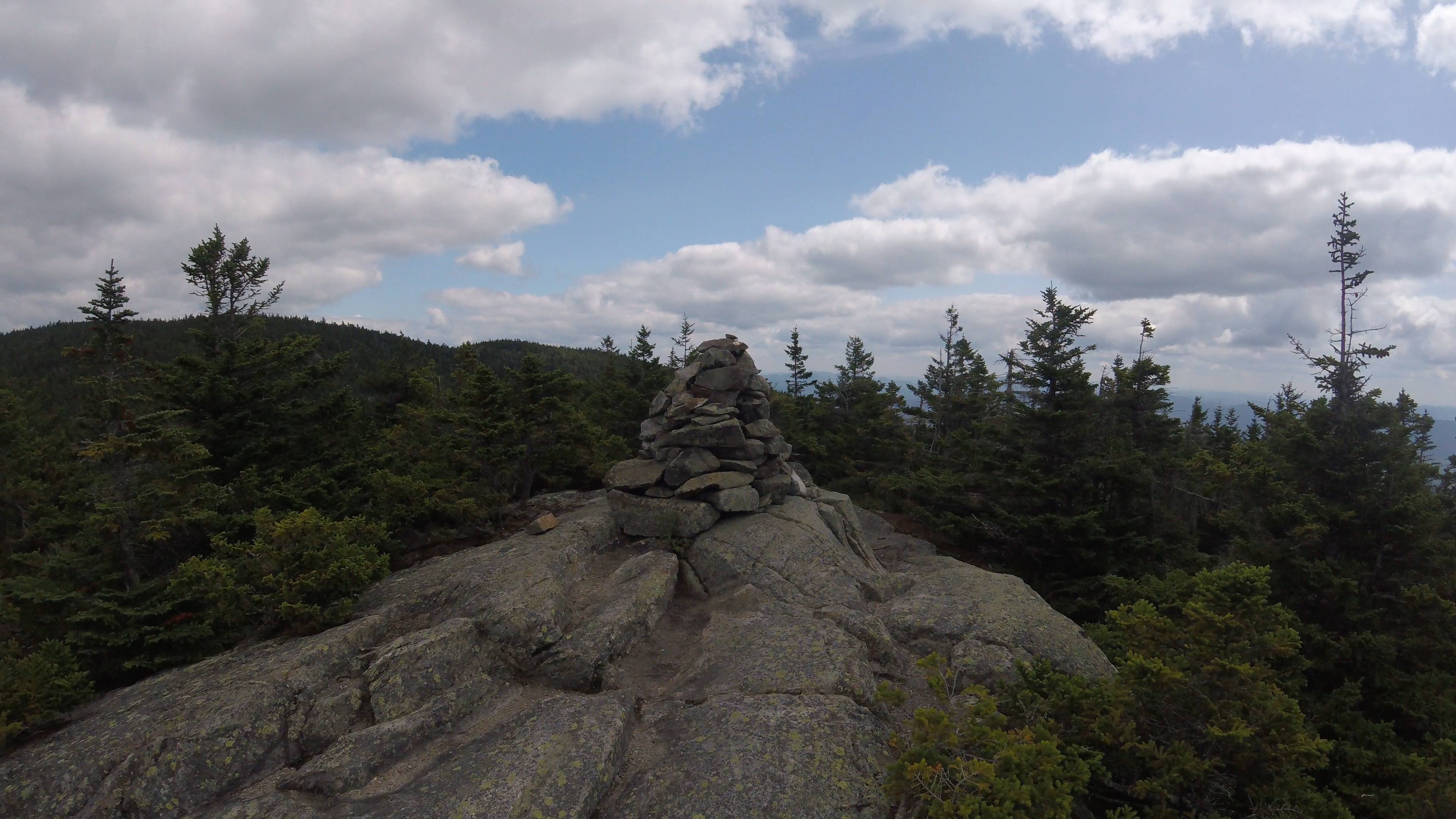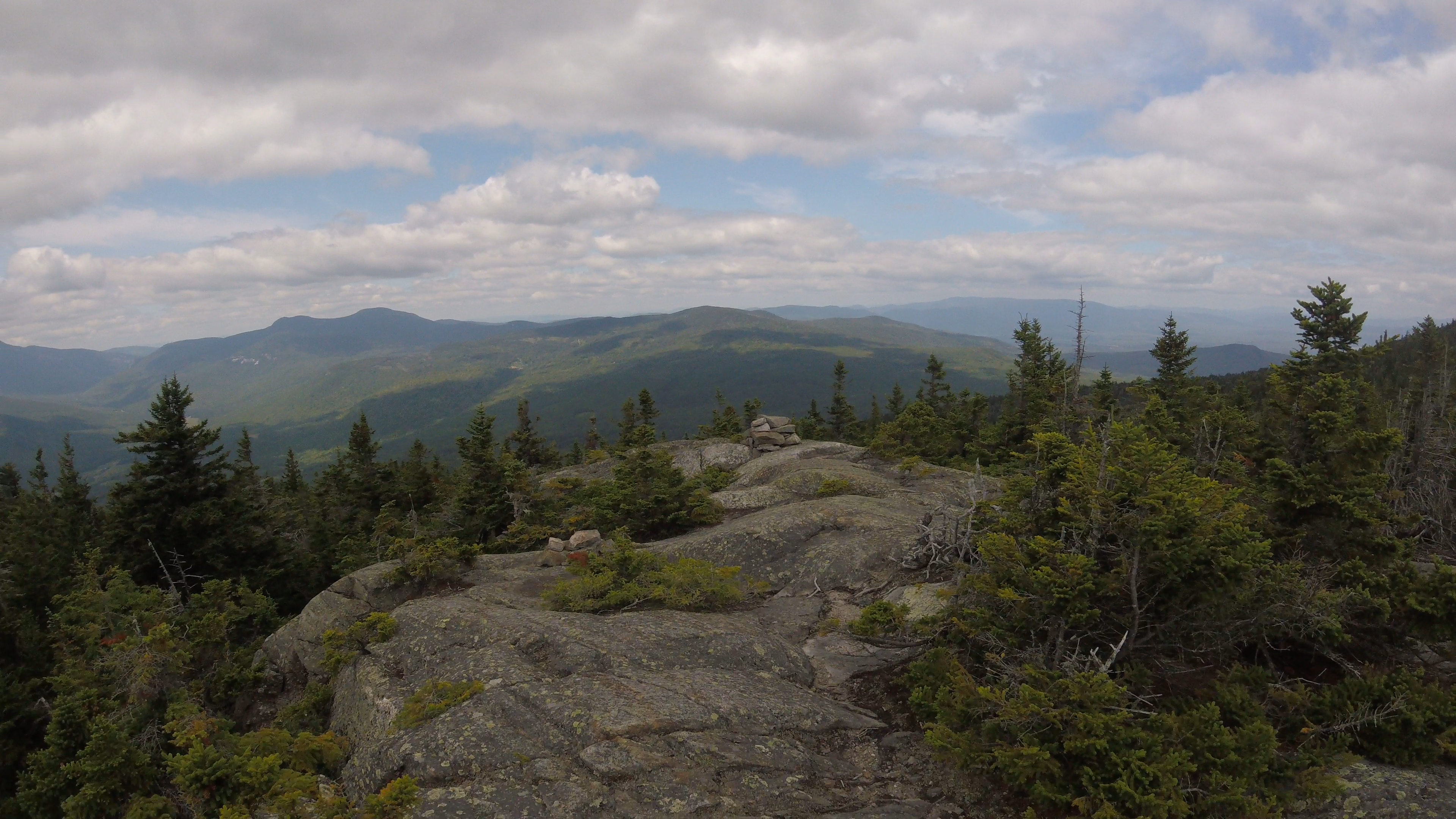 Stewart and Woodspur Fork & Nav Error
This is where I made my first navigation mistake. This was a fork with a sign for the Stewart campsite, and the Woodspur trail across from it. For some reason I thought the one pointing to Stewart was saying I was at the campsite, and it was 2.7 miles down the trail. Naturally I wasn't about to check the site out if it was that far. So I continued on the Woodspur trail. I went about a 1/4 mile before deciding to check the GPS, as I had just remembered about the Woodspur trail, although I coudn't remember the name of it at the time. Looking at the GPS I discovered that I had taken the spur trail, and should have gone down the one towards Stewart after all.
Returning to the fork netted me a waisted 13 minutes and 0.4 miles. That was going to effect my arrival time at to camp.
I'm not sure if my milage is taken from the wrong spot, but my GPS seems to indicate that it was only 1 mile and 20 mins from the fork to Stewart. The sign had said 2.7 miles.
I still had water left, so I decided to keep going and fill up at the next water source instead. I was expecting one in about a mile, and I wasn't disappointed. There was a tiny one 1 mile away, where the mosquitoes where happy to have me there where I topped up my water bottle, then continued on. It was then that I felt the bottom of my foot was pretty sore, so I stopped and put some KT tape on it to make sure I didn't get a blister. The KT tape stayed put until I got back to the car, which was 2 days and one night later. 1.3 miles from Stewart I crossed Chase Hill Brook where a couple girls were taking a break and filling up water. We chatted a little, and I topped up my water again.
There isn't a reliable water source for another 3.8 miles when you arrive at camp. But there are several unreliable sources, that did have water along the way.
Town Corner
After leaving the water source it's a fairly steep 2.5 miles to the top of Long Mt. No real views from there, so I just kept going the remaining 1.3 miles to Town Corner. At some point along the way, there was a section with a sign that had you follow a road for 1/4 mile before going back into the trees.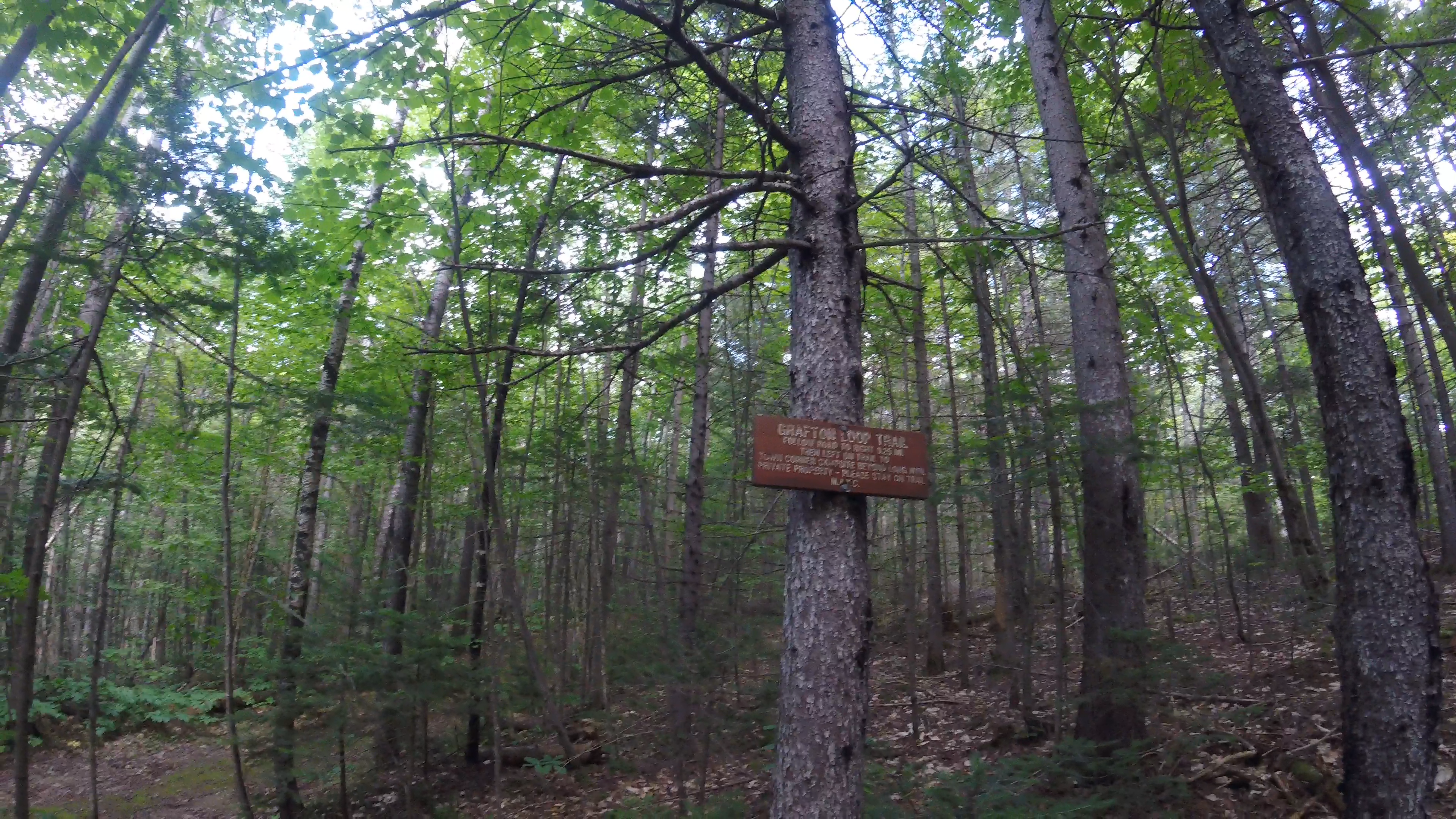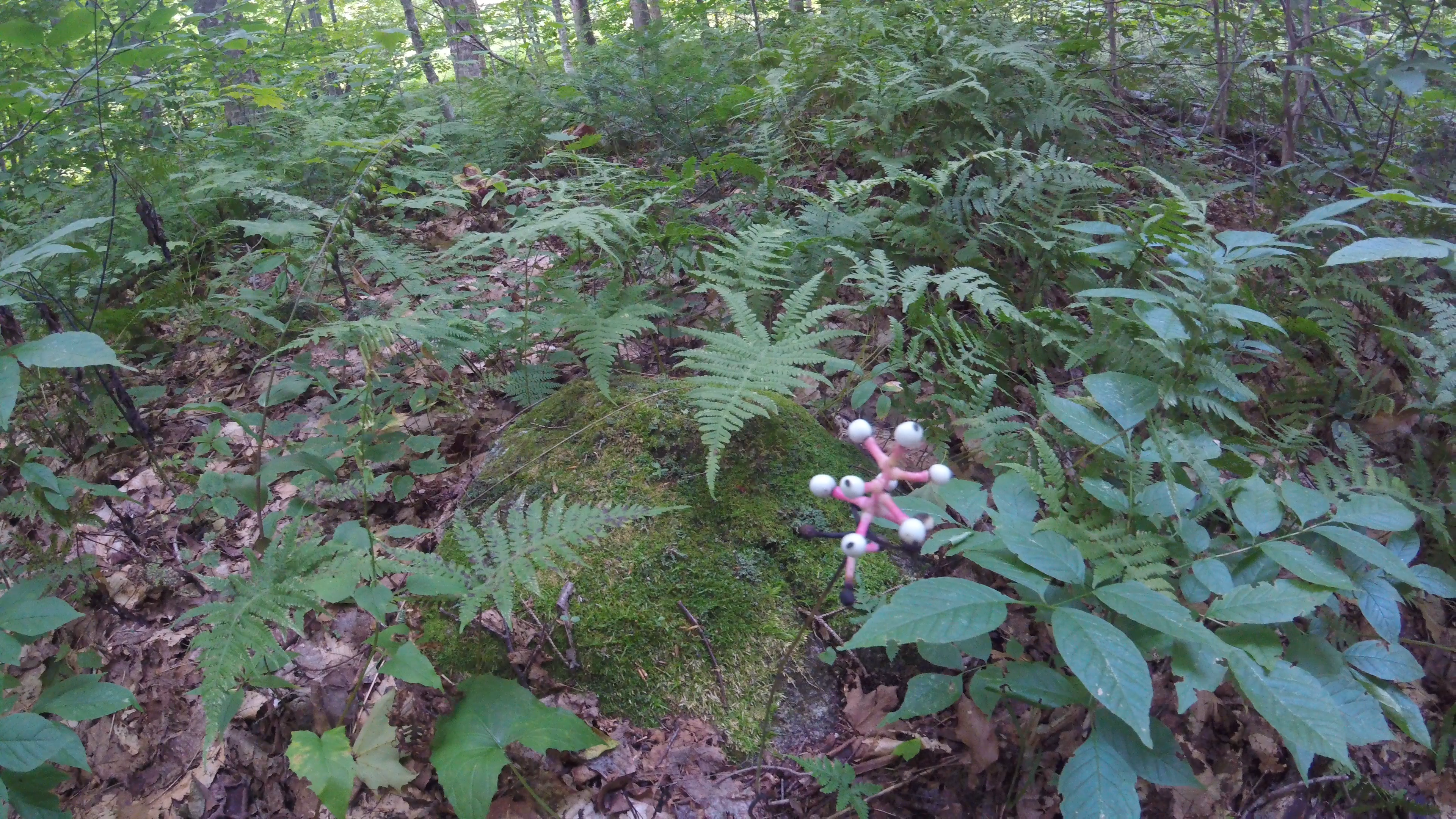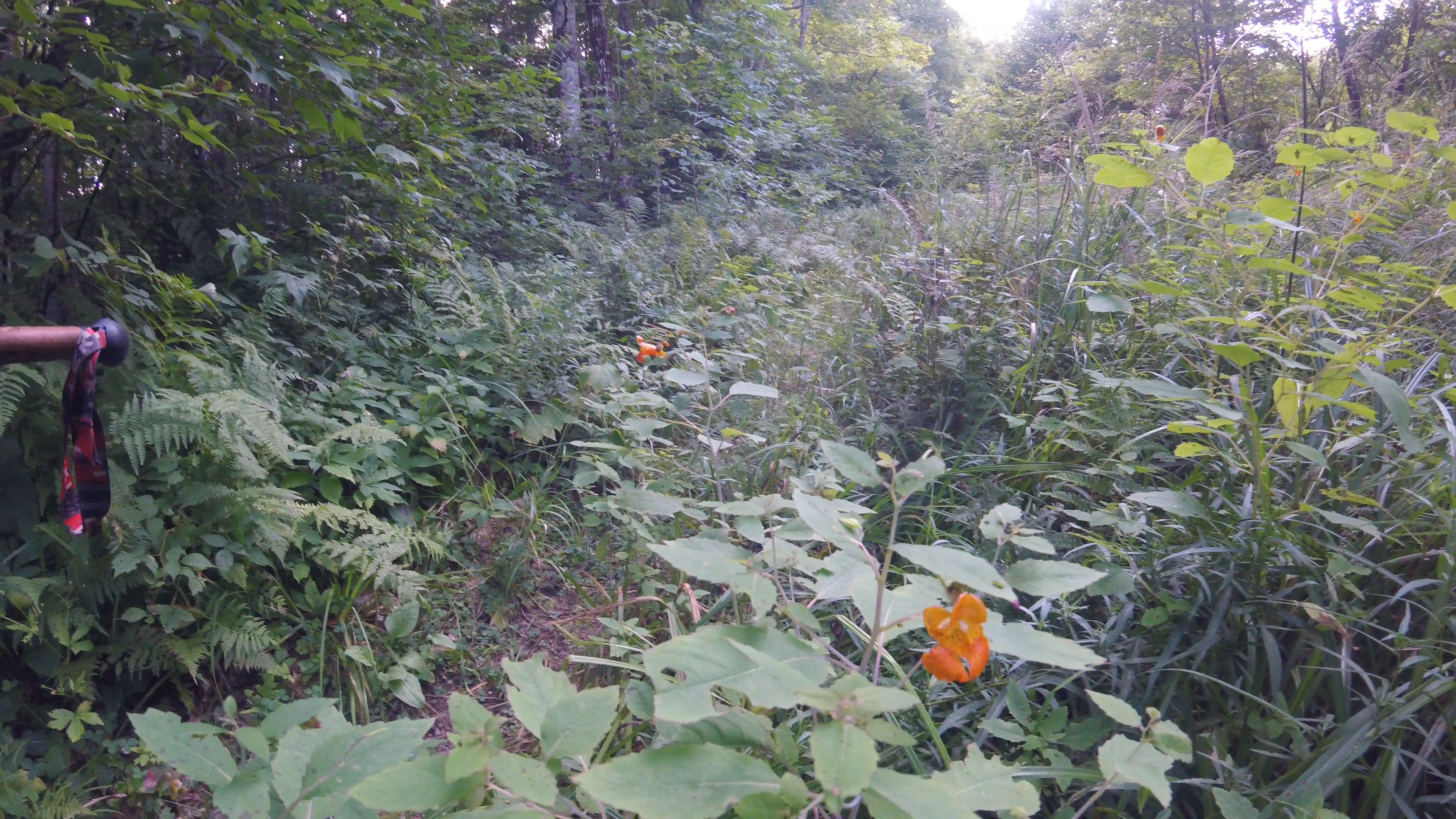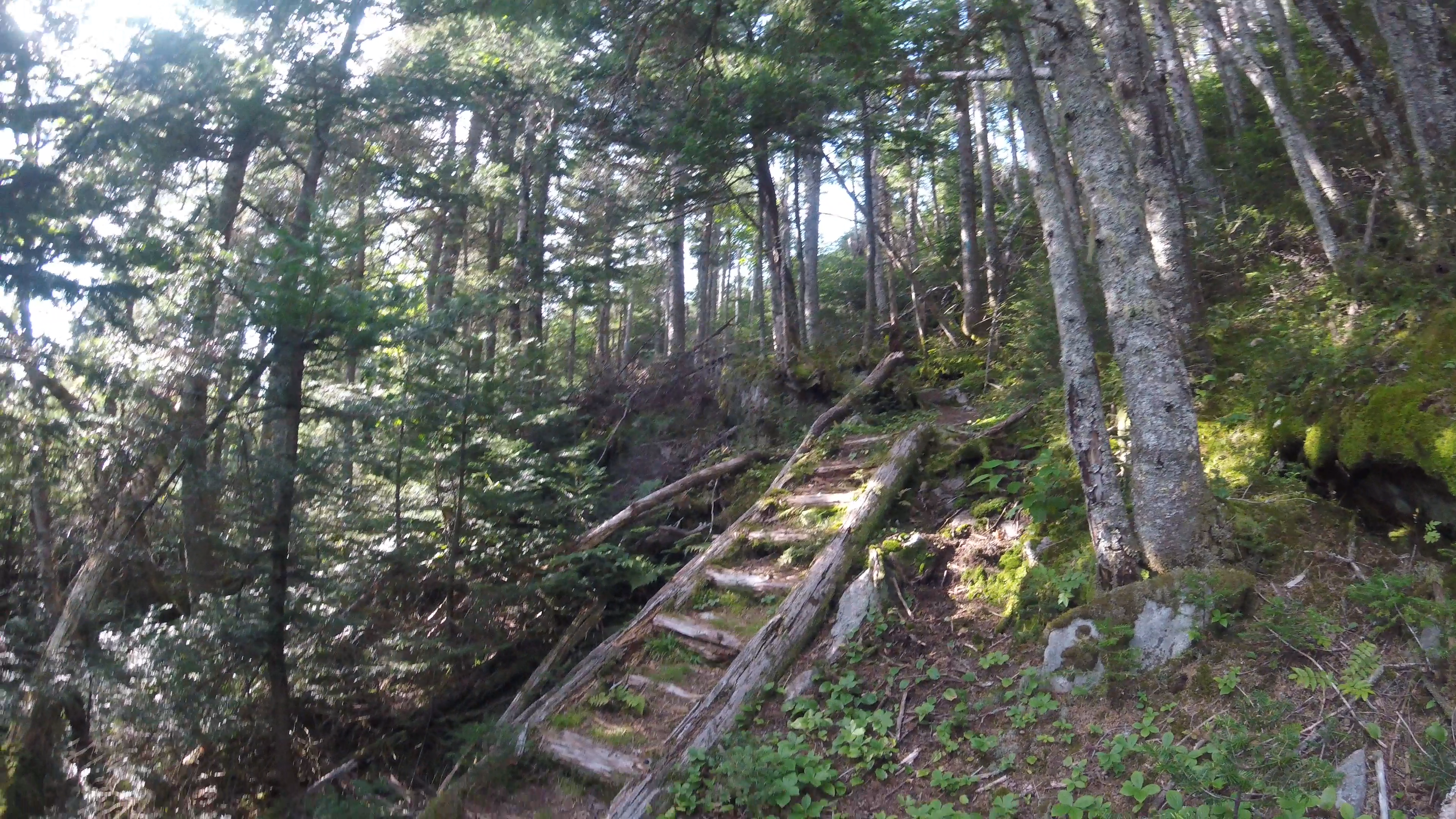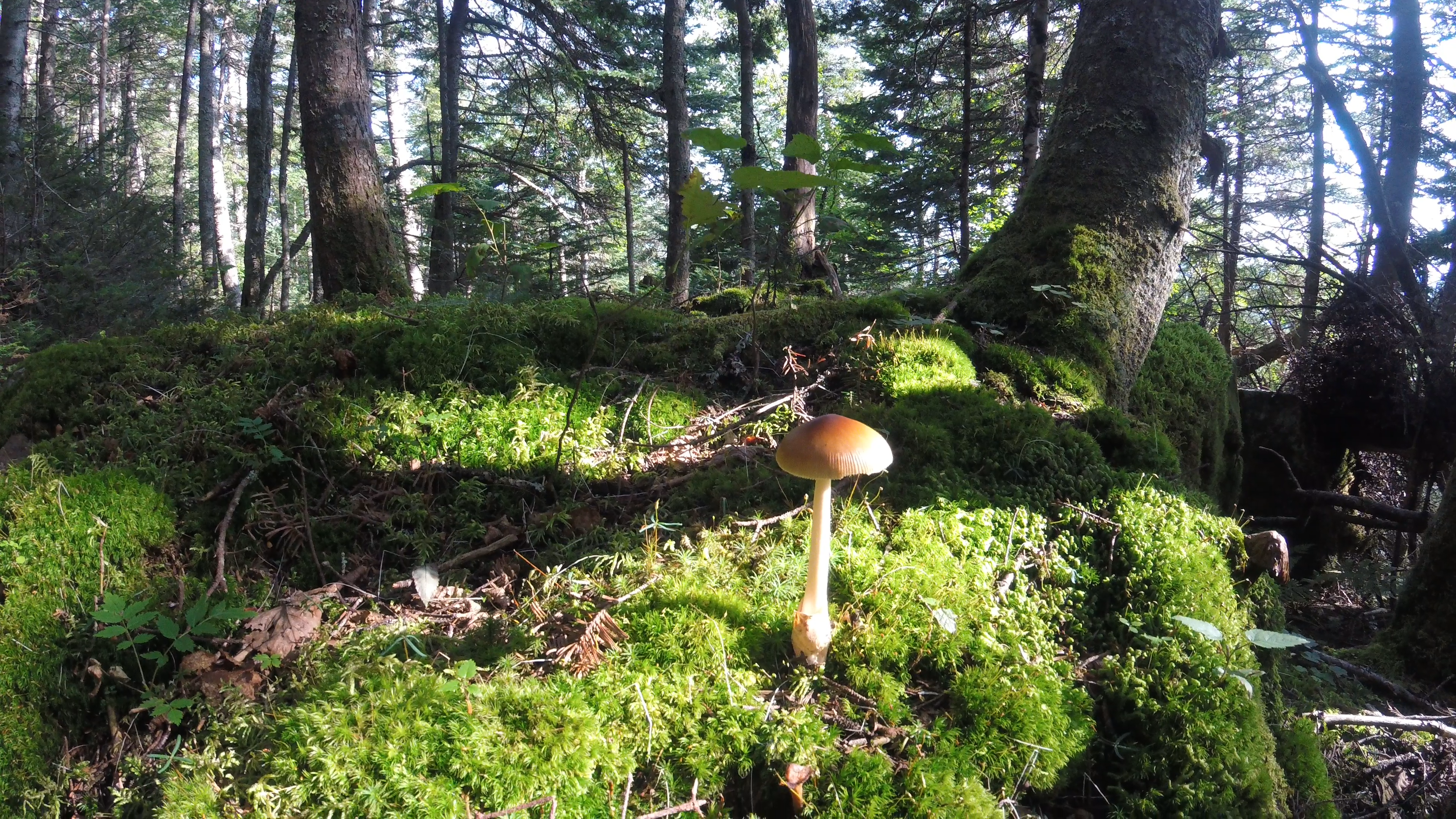 There is a scenic view at the top of Long Mt but I didn't bother with it since I wanted to get to camp.
I almost walked past the sign for Town Corner. It was just after a large water crossing, which I believe is the camps water source during dry periods.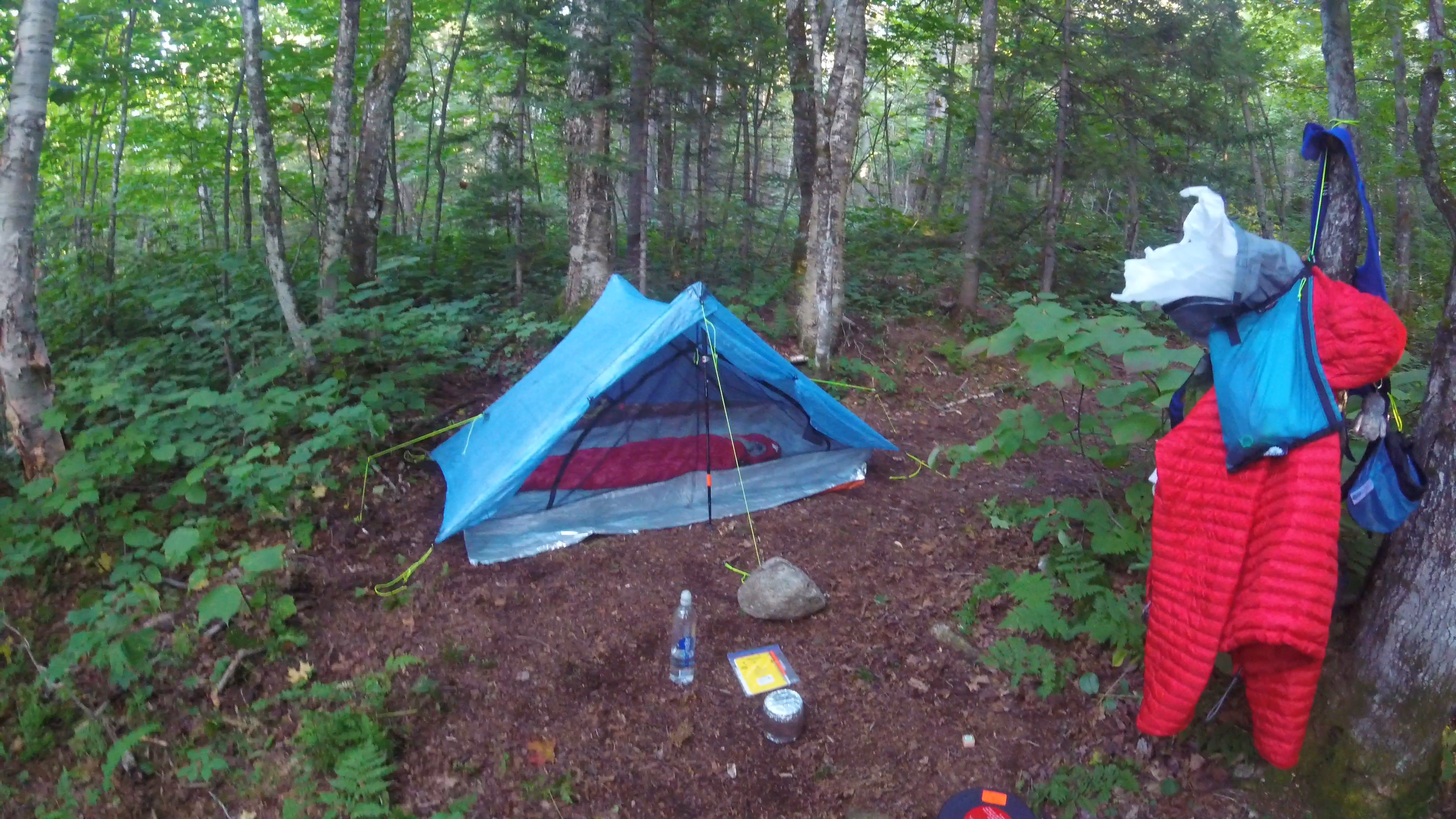 When I arrived, I discovered there was a group of 12 people at camp already, and there was one spot left, which I took. The group was actually really quiet, for being a bunch of teens. They had like 5 food bags hung a few feet off the ground. Glad there were no bears around, but Josh had mentioned there were a lot of squirrels. So I was glad to have my Bear Vault because it not only gave me something to sit on, but I wouldn't have to worry about bears or especially the mini bears getting into my food.
I set my tent up, had a very good pitch after messing around a little, and grabbing a couple large rocks to put on my main tie out stakes. I find if they are not secured really well, the tent will be limp in the morning as the stakes can't really hold the tension through the night on their own. Especially with soft ground they were in.
Dinner was Jamaican Jerk with ground beef instead of chicken. I put a little extra water in, which gave it a little soupier consistency that I liked. The taste was good, but if I take the spice level down a little I would be able to had a little more spice mix to bring the flavor up a notch. I did however like the beef.
Daily totals for day 3
13.3mi, 9h18m, 42min/mile
Day 4
I had my best night yet. I woke up laying on my back. I had fallen asleep on my back listening to my audio book. Totally awesome, as my back is the most comfortable position once my back relaxes. Thing is, I usually can't sleep on my back, and wake myself up if I snore. This time I didn't wake myself up. No idea if I snored though. I had left the 2 vestibule doors at my feet open for air flow, and used my sleeping bad as a quilt the entire night. I managed to stay warm, and only woke up once or twice to tuck it in closer to myself, or pull it up over my shoulders. The night was uneventful, and no night time monsters wandering around.
Today I was determined to get out of camp faster. I woke up about 6:30 and was out by 7:55. Better, but I think I can still go faster.
From Town Country all the way until you start ascending East Baldpate, there is plenty of water as you are next to or crossing a large stream. Again, pointless to keep more then a liter of water with you at a time.
You can camel up at the East Baldpate campsite, and there is another small brook another mile out. There is also an unreliable source another mile after that. Then nothing really to you hit camp at the Baldpate Lean-to.
Second Navigation Mistake
After walking about 0.7 miles, there is a water crossing, and the trail continues straight, and the bushes get really dense. Wrong. I missed the turn to the right after the water. I'm pretty sure I went the way Bennett did in 2013. I'm not sure how far she had gone, but Nelson her dog had come up behind us unexpectedly. We didn't see Bennett, and figured she was ahead of us, but decided to keep Nelson close to us.
This time I only went 0.1 miles before checking the GPS and discovering I went the wrong way. It was especially annoying since the bushes were so dense, it was hard going and very wet.
According to the GPS map, it is part of a north south trail that starts and goes nowhere.
Knoll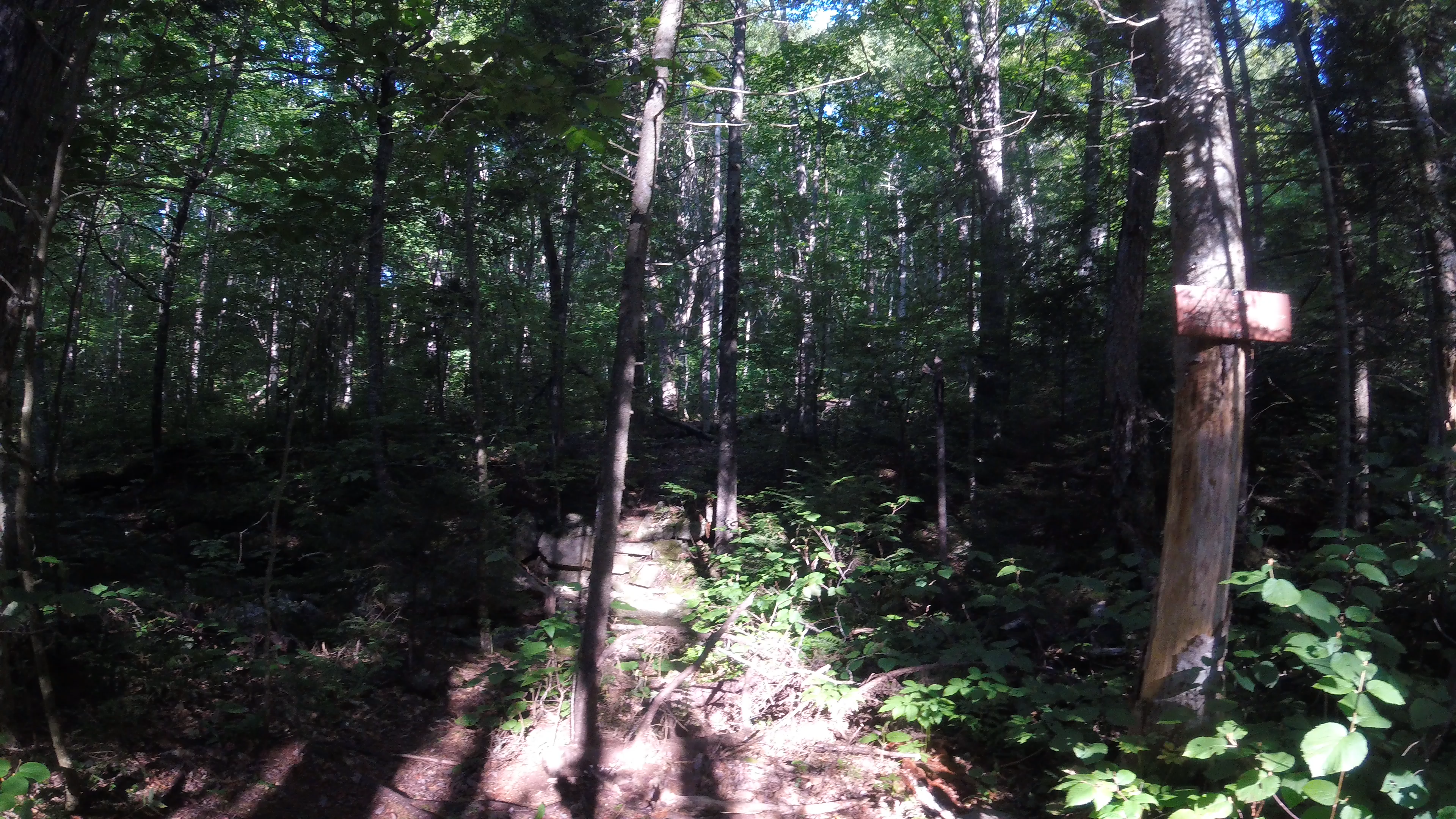 The Knoll campsite was closed at some point, and maps no longer list it. But the signs along the trail still reference it. I con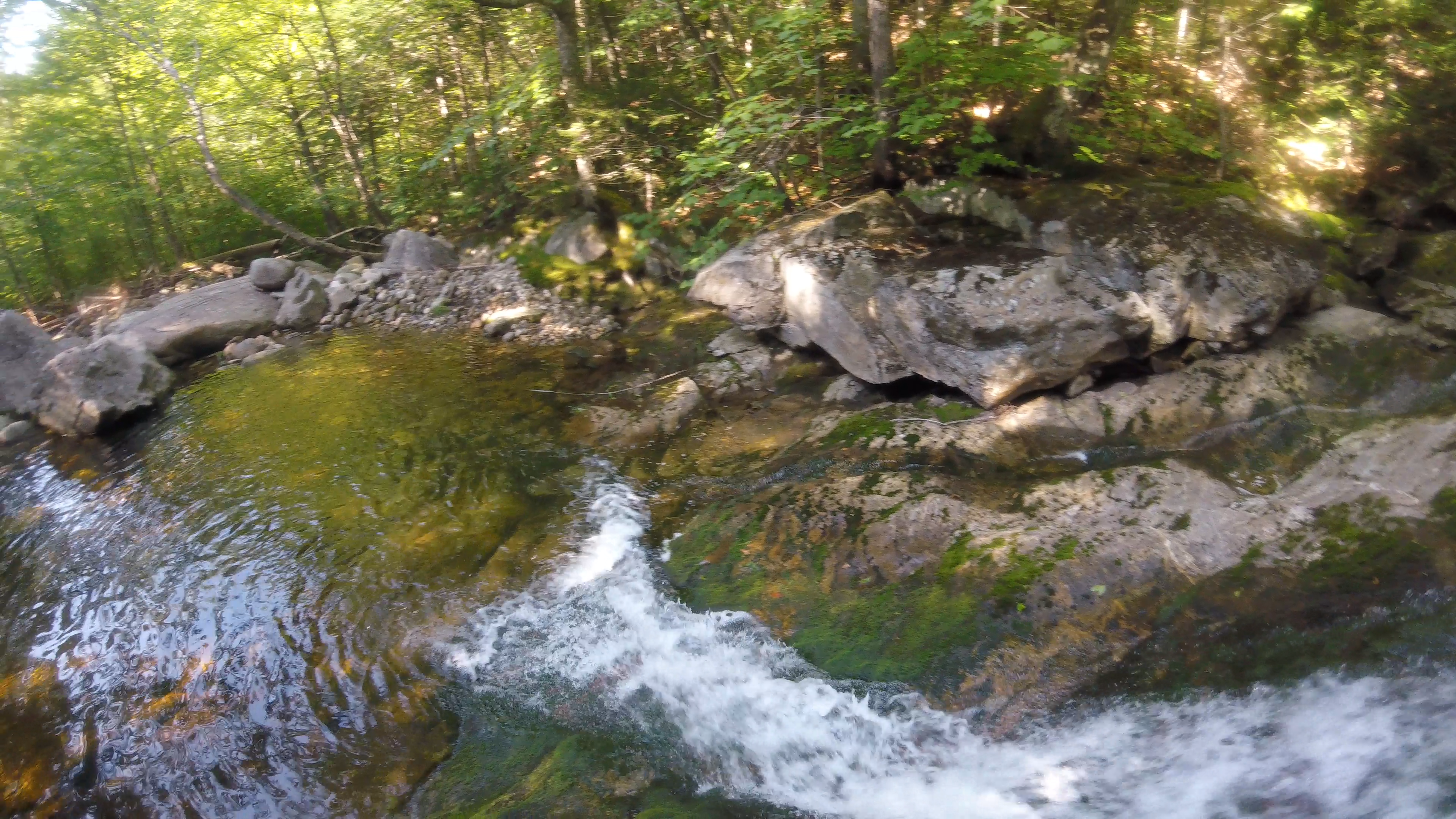 Baldpate Camp, Lightening Ledge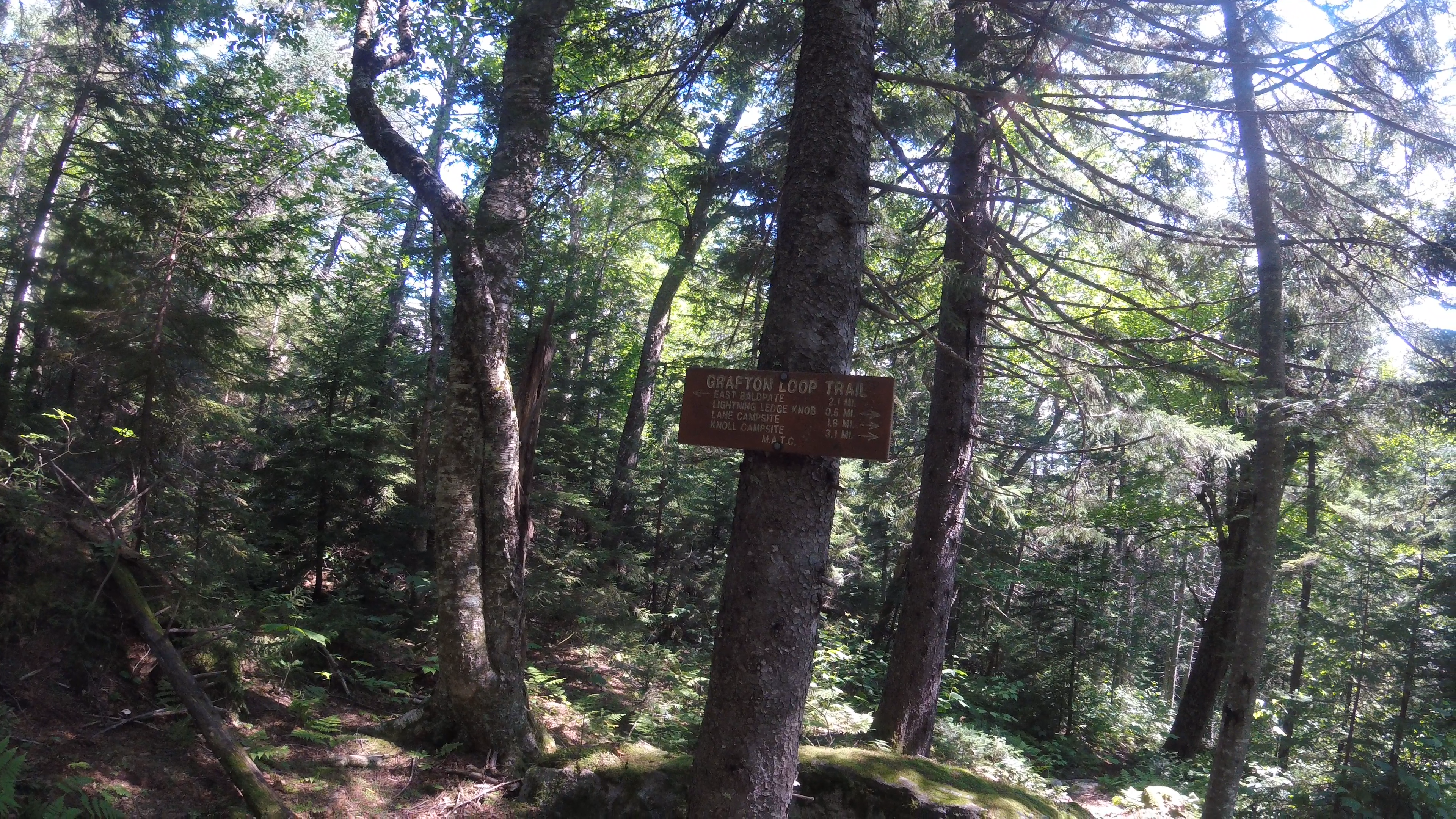 You'll come to Lightening Ledge, which I totally remembered from 2013, but which I didn't get any picture of for some reason. Good place for a little rest as the view is quite nice. From there East Baldpate is 1/2 mile further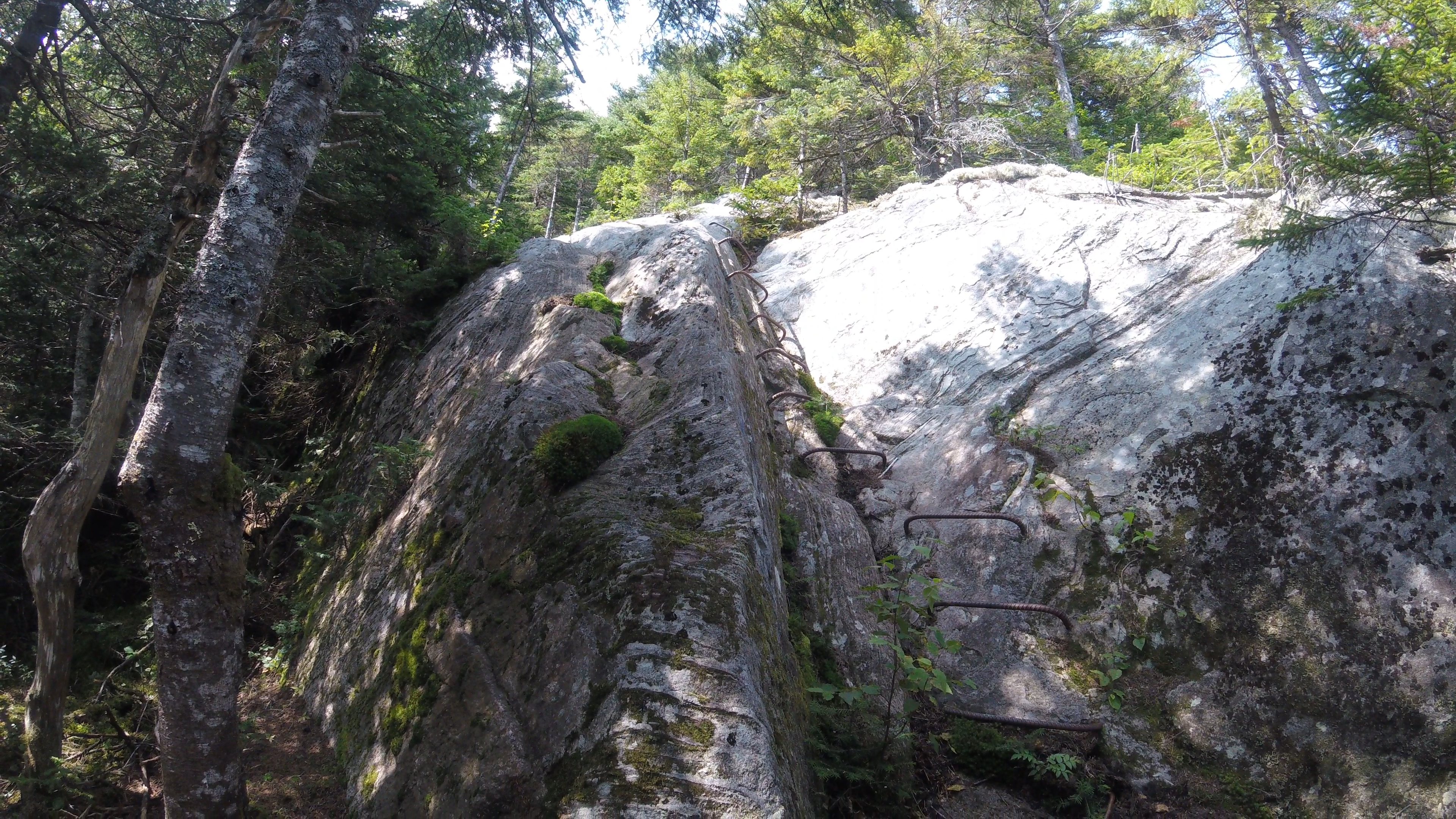 East Baldpate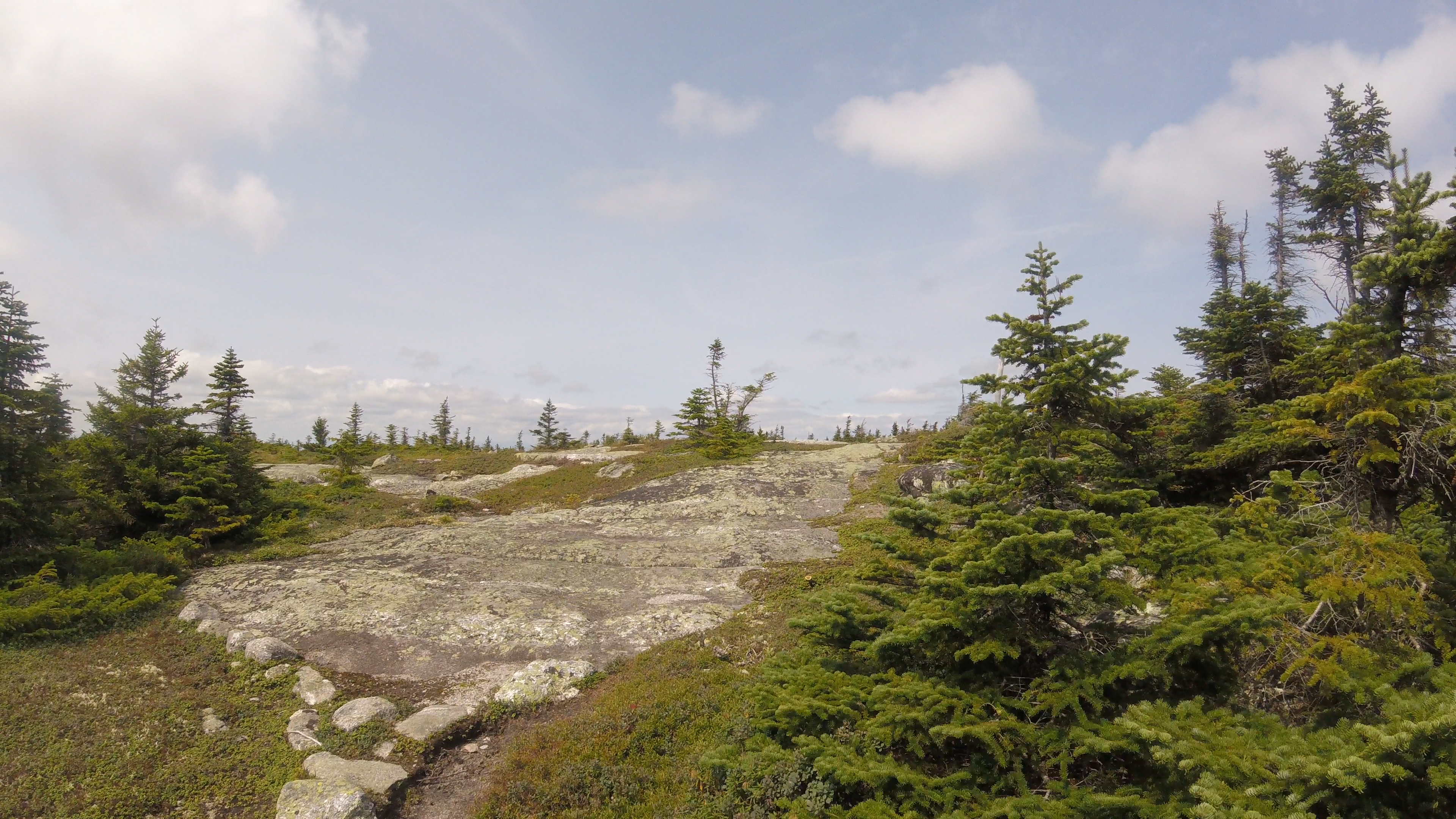 I got to the top of East Baldpate about 12:30. This is were the trail continues along the AT until you get to the parking lot. After wondering around a little, I had lunch. I would recommend going further west along the AT to the part where it goes down to West Baldpate, about 0.2 miles west. A much better view.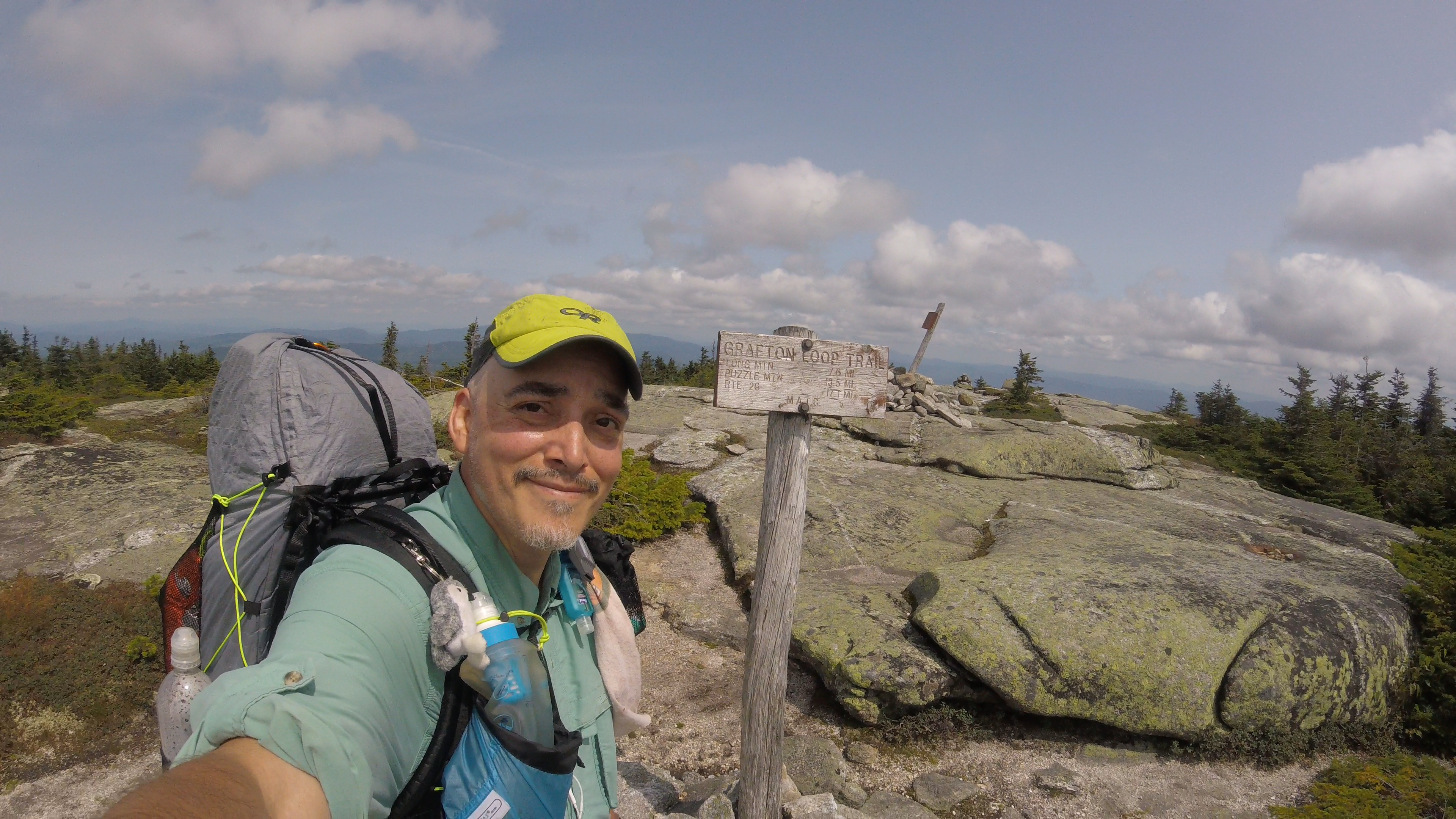 The next few photos are of the summit progressively further away. I was trying to capture the same images from 2013, but I didn't get it quite right. But it was fun trying.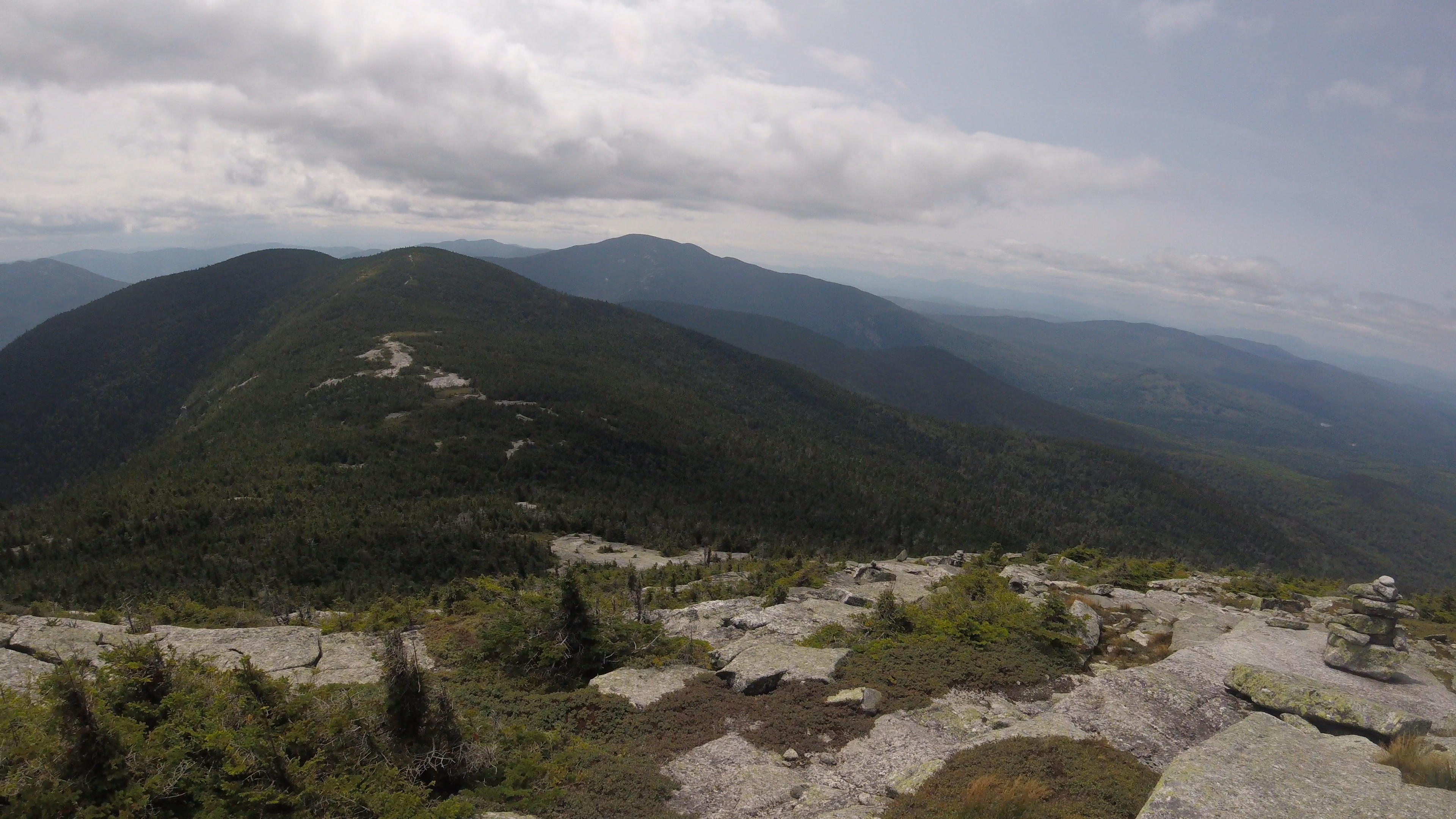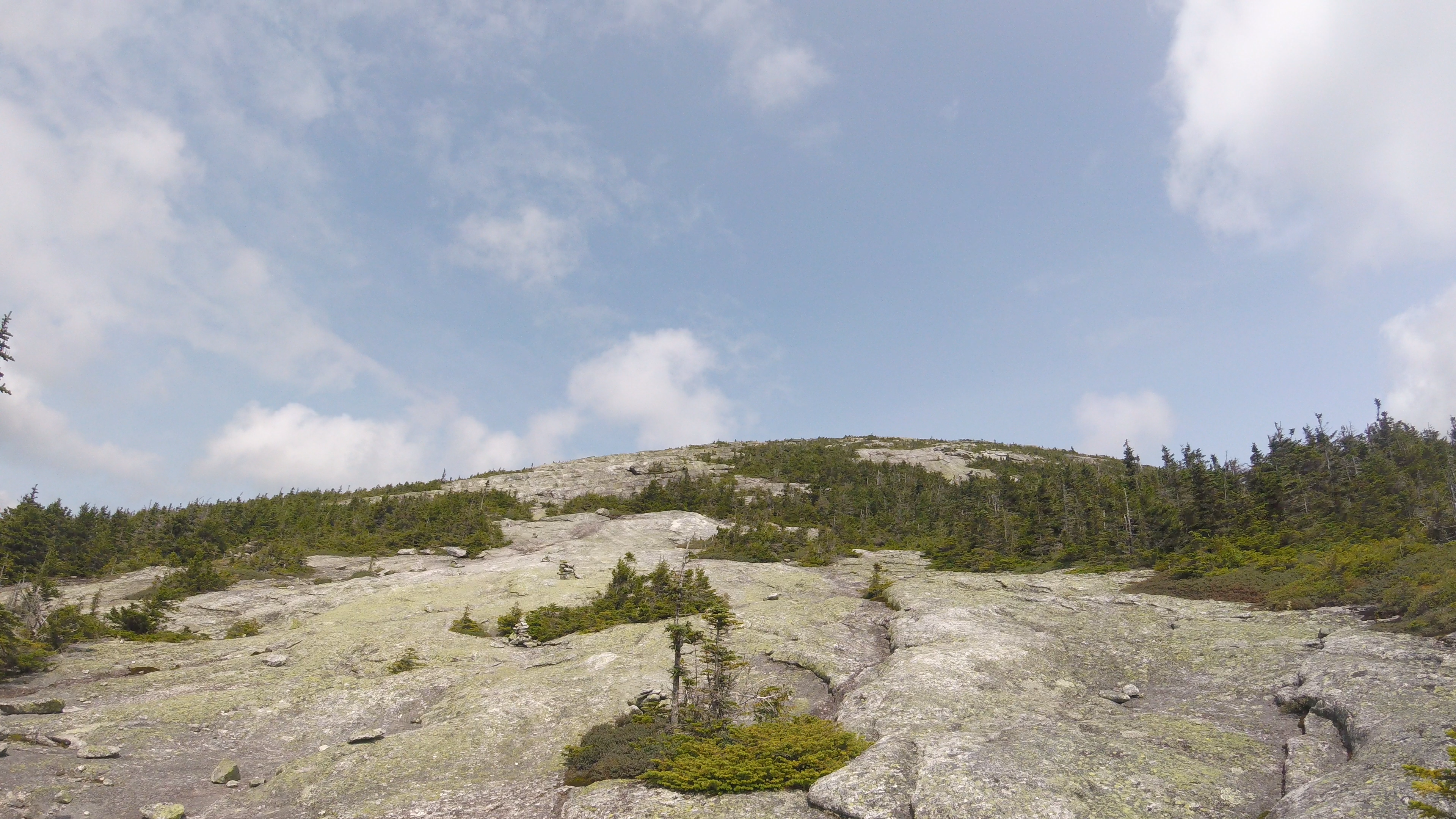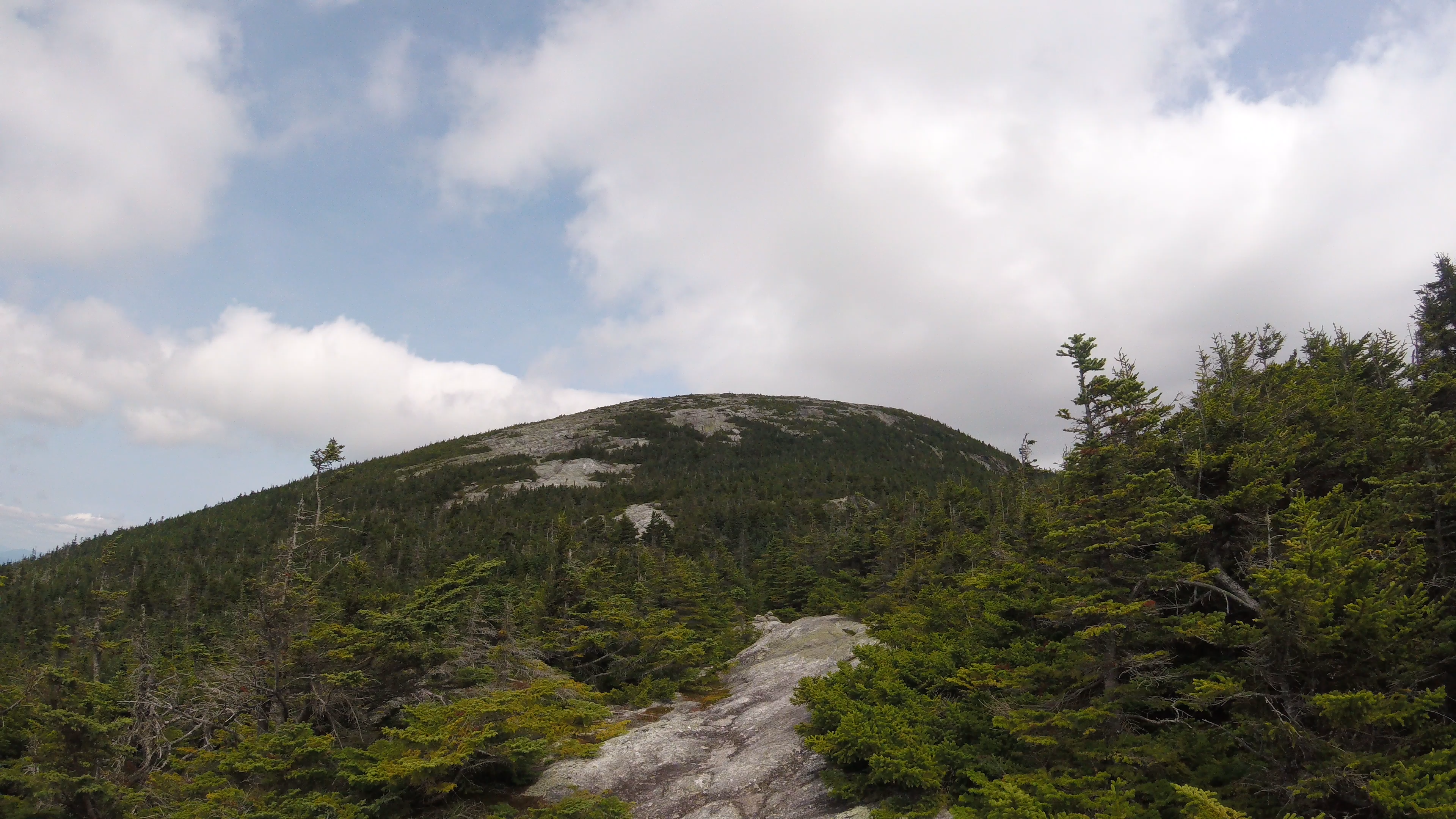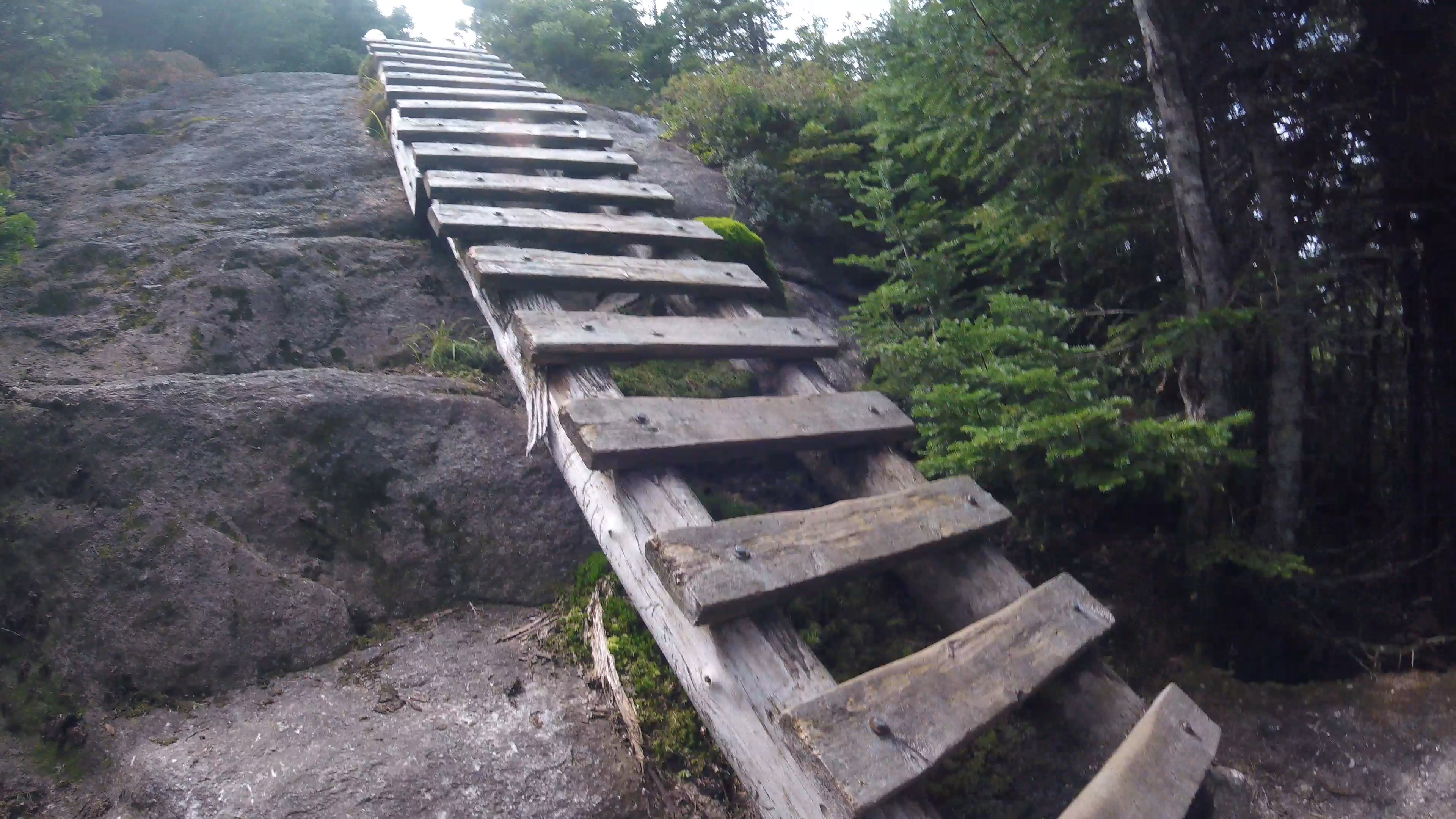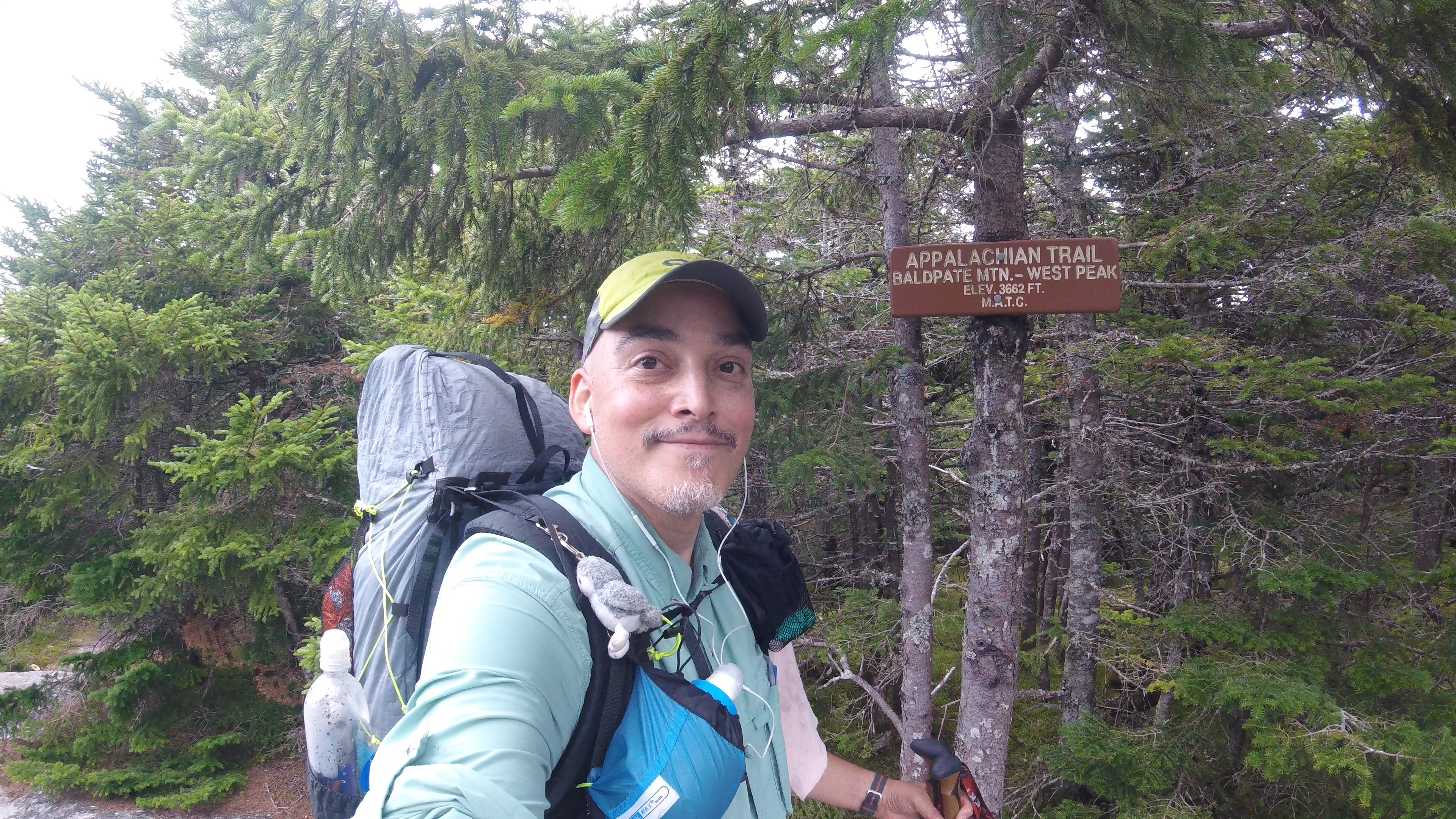 Once at the bottom of East Baldpate, it levels off, and is kinda fun, as long as you don't step in the 17" deep mud pit. Then it is up once again to the top of West Baldpate. I can't say I remember much from that summit, so I'll tell you about the one SOBO that caught up to me. He was sporting a kilt, and was asking how far it was to the Baldpate Lean-To. I thought it was an hour out, but then I checked my GPS. It was 300 feet away!
Back at the car
I made it back to the car by 16:00. Changed into some clean clothing, had some snacks and was on my way back home.
Daily totals for day 4
11.83mi, 8h05m, 41min/mile
Stats
I used a total of 35g of fuel. Backpack weight with water and food was about 24lbs. 5.4lbs of that was food, 2lbs was my Bear Vault, and 2.2lbs for 1L of water. Base weight was 15lbs. 4lbs heavier then my usual base weight, because I took extra clothing, and that Bear Vault. Ugg.
Daily milage and speed
40 min/mile = 1.5 mph. 48 min/mile = 1.25 mph. So my average speed, including breaks (some as long as 45 mins if I took lunch and talked with people) was just a hair slower then 1.5 mph. It's good to see such consistent numbers, even with a heavy pack and steep grades.
| Day | Milage | Time | Avg Speed min/mile |
| --- | --- | --- | --- |
| 1 | 5.3 | 3h41m | 42 |
| 2 | 9.77 | 6h45m | 40 |
| 3 | 13.3 | 9h18m | 42 |
| 4 | 11.83 | 8h05m | 41 |
Resources
Sintax77 hiking the GLT in 4 days complete with video and trip data.
Brought: Zpacks Arc Blast, Zpacks Duplex, Bear Vault, EMS Thunderhead pants, Helium 2 jacket, 1 extra underwear to hike in, 1 extra socks to hike in, sleeping socks, pategonia thermal shirt for sleeping in, long johns for sleeping in, 35F sleeping back, pillow, neoair xlite, microrocket, toaks 750ml pot, reg sized lighter; wore LL Bean long sleeve, running shorts.
Wish I brought: Convertable pants instead of running shorts, ursack, wished I left the extra socks and underwear behind